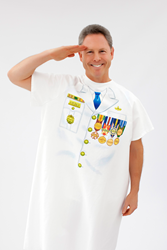 I want to inspire people. I want to show people that they can market more than just their business.
New York, NY (PRWEB) July 10, 2014
When entrepreneur Jody Barrett approached long-time manufacturer Ronnye Shamam with her business concept and a request to produce her first-ever in market 'reimagined' hospital patient gown, she knew as a start-up, she may be turned away.
But it soon became clear to both Shamam and Barrett that this was an exceptional opportunity.
For 30 years and in an increasingly difficult textile market, Shamam has led the woman-owned, New York-based medical manufacturing company Shamron Mills which has partners in upstate New York, Pennsylvania and North Carolina and a long-time commitment to providing jobs for disabled workers.
Shamron Mills produces garments and textile items for healthcare, linen supply and other industrial settings and typically only works with established distributors. It is rare that the company considers partnerships with individuals—and when they do, it's only those presenting a standout product and clear marketing plan.
Barrett's SeriouslyFunnyGowns.com, which allows consumers to design customized, inspirational hospital patient wearables, not only met Shamam's criteria—it exceeded it. Likewise, Shamam's longstanding commitment to providing jobs for the disabled was a leading factor for Barrett in wanting to partner with Shamron Mills.
The customizable gowns, mammography tops and breast cancer tops at Seriously Funny Gowns fills a void in the often overlooked human element in healthcare and the power of the mind in the healing process. As a first-ever hospital gown concept and gift alternative, Barrett's gowns recognize, uplift or just offer a fun diversion for friends and family enduring hospital stays, undergoing illness treatments or in rehabilitation centers, senior facilities or nursing homes.
The fun designs at Seriously Funny Gowns appeal to a cross section of consumers with an emphasis on women battling breast cancer as well as honoring everyday heroes.
Barrett and Shamam's like-minded business savvy, support of women entrepreneurs and shared commitment to opportunity for the underemployed has led to a unique and dynamic working relationship—a combined and concerted dual effort to uplift US manufacturing, American business, workers and lives.
For more information on Seriously Funny Gowns, interviews, product images or samples, contact Jody Barrett.
For the Seriously Funny Gowns launch PR: http://www.prweb.com/releases/SeriouslyFunnyGowns/Launch/prweb11833725.htm
BUSINESS REPORTERS: We would love to tell you more about how woman-owned, New York-based businesses Seriously Funny Gowns and Shamron Mills are working together to empower US workers and business.
MEDIA CONTACT:
Jody Barrett
516-903-5022
2jodyb(at)gmail(dot)com