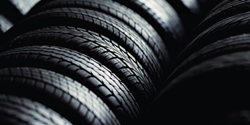 TRUSSVILLE, Ala. (PRWEB) October 21, 2019
Purchasing a full set of tires can be expensive and often the cost is what keeps car owners from replacing theirs before it's too late. Serra Mazda is seeking out a solution to the cost of a full tire set by offering a free tire with the purchase of three tires.
From now until October 31 customers who purchase three tires will receive a fourth for free at Serra Mazda. This offer is available on Bridgestone, Dunlop, Yokohama, Goodyear, Hankook, Kuhmo Tires and Toyota Tires brands at the Trussville-area dealership.
No coupon is necessary to take advantage of this limited time offer at Serra Mazda, but shoppers must present the offer at time of write-up if purchasing the set in person. Customers can have their vehicle's new tires mounted and balanced at the time of purchase as well for an additional cost.
To take advantage of this buy three, get one free offer interested shoppers can purchase their tire set online or in person. To purchase a set online, simply visit the Trussville dealership's website and head over to the Tire Store page found within the Service tab in the top menu. From there customers will enter their vehicle information and the populated results will display which tire options qualify for this money-saving deal.
Interested customers can learn more about this offer by visiting the Serra Mazda website, http://www.serramazda.com, or by contacting a member of the Serra Mazda sales team by phone, 205-419-5556. The Serra Mazda service center is located at 1503 Gadsden Highway in Trussville, AL and is open from 7 a.m. to 6 p.m. Monday through Friday and from 7:30 a.m. to 3 p.m. on Saturdays.