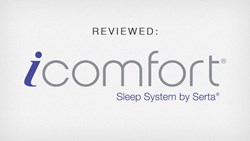 Atlanta, GA (PRWEB) September 26, 2013
Owner opinions are often one of the best ways to gain insight into a product before buying, especially with significant purchases like mattresses. Mattress Journal, a blog covering bed brands and industry news, assesses and compares ratings for one of the newer memory foam mattress brands in their latest article, "A Look at Serta iComfort Reviews".
Mattress Journal takes an analytical approach to the comparison, assessing each of nearly 400 reviews from the brand's website and third-party consumer review websites for mentions of pain, odor, heat, sagging, durability and other expectations. The article intends to provide an unbiased perspective to assist consumers with product research.
After briefly explaining the key characteristics of the gel-memory foam line, Mattress Journal explains their findings by looking at a range of variables, including: comfort and pain relief, off-gassing, heat retention, sagging and durability, firmness predictability, service, and overall satisfaction.
Key findings include that up to 30% of Serta iComfort reviews mentioned reduced pain, although over 12% also mentioned increased pain. For two more common complaints with memory foam, 5% of iComfort reviews mentioned off-gassing odor and 6% mentioned heat retention or excessive sweating. Two points of concern included 9% of reviewers mentioning sagging or impressions, and 7% mentioning their beds being significantly softer or firmer than expected. Overall, Mattress Journal identifies an average owner rating of 4.1 out of 5, with about 81% of reviewers recommending the iComfort line.
In order to apply meaning to the numbers, Mattress Journal goes on to compare the iComfort mattress reviews with reviews of memory foam in general and two other brands. Included in the comparison are Tempurpedic, a leader in traditional memory foam, and Amerisleep, a leader in plant-based memory foam. The comparison utilizes a similar method of review analysis, offering results in simple table format.
Mattress Journal's analysis shows Serta iComfort reviews placing the brand slightly above average for memory foam overall in several regards, though in the middle-range between the three brands for odor, heat, durability, price and owner satisfaction. The article briefly summarizes the comparisons, and then expresses the importance of checking reviews against personal preferences and recommends comparing several brands to find the best value when shopping for mattresses. The website has several other resources on topics of mattress education, brands and sleep as well for interested readers.
MattressJournal.com offers the latest bed news and mattress reviews to help shoppers research purchases and get the best sleep possible. Through careful, independent analysis of mattress types, brands, and sleep research, the blog offers expert opinions in readable, relatable format. With a focus on making the buying process simpler, Mattress Journal proves a valuable resource for consumers.