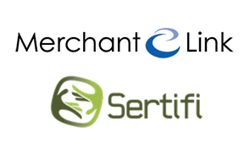 Chicago, IL (PRWEB) September 16, 2014
Sertifi, a trusted eSignature provider for hospitality, and Merchant Link, a leading payment gateway offering cloud-based cardholder data security solutions, will co-host a timely webinar on how hospitality organizations can use an integrated electronic signature and PCI payment solution to securely close business faster on Thursday, October 2 at 11:30 a.m. EST.
The webinar will address how sales and catering groups can utilize an integrated solution to:

Speed the sales cycle
Adhere to PCI data security standards
Reduce paper waste
Improve on-the-job productivity
The webinar will include a live customer testimonial from Full Moon Resort, a year-round mountain resort located in upstate New York. Melanie Warner, Operations Manager, will share Full Moon Resort's experience deploying and utilizing an integrated eSignature and PCI payment solution to collect signatures and event deposits within an average of just 11 hours!
Register now while webinar seats are still available.
"We're excited to join Merchant Link on October 2 to provide hospitality companies with more information on how they can automate the last mile in their sales process by more than 50 percent," said John Stojka, Co-Founder at Sertifi. "Full Moon Resort will kick off the webinar by sharing the benefits they've gained since utilizing the solution and how their customers are reacting to signing and paying at once."
###
About Sertifi
Sertifi accelerates the last mile of the sales process by providing an integrated eSignature and payment solution, enabling organizations to securely close deals faster and offer a more convenient way for customers to sign and pay.
Organizations can access Sertifi through its open API, CRM integrations, and Web Portal solution. Leading organizations around the world including Dolce Hotels and Resorts, Ritz-Carlton, Pitney Bowes, CareerBuilder, and Cricket Communications trust Sertifi to close business faster. Visit http://www.sertifi.com or call 866.983.8877 to schedule a one-on-one demo or trial the solution.
About Merchant Link
Merchant Link is a leading provider of cloud-based payment gateway and data security solutions, removing the risk and hassle of payments for more than 300,000 hotel, restaurant and retail locations. Founded in 1993 and headquartered in Silver Spring, MD, we currently enable more than 4 billion transactions annually for some of the world's best-known merchants, providing connectivity to the major U.S. payment card processors. Our mission is to develop secure payment solutions that are flexible, customized and evolving to meet merchants' changing needs and allow them to focus on their core business without worrying about managing cardholder data. TransactionVault®, our tokenization solution, and TransactionShield®, our point-to-point encryption solution, mitigate the risk of a data compromise while lowering the cost and effort of PCI compliance. For more information, please visit http://www.merchantlink.com.