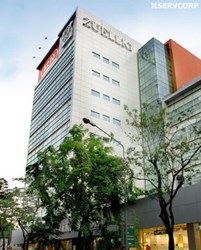 (PRWEB) September 19, 2013
Servcorp, the global vanguard when it comes to Serviced Office Thailand business solutions is once again hosting the Business Shorts event. The major event offers guests with an informative evening that can double as a domestic networking opportunity as well. Professionals with likeminded goals when it comes to improving their chances at becoming market leaders of their respective industries should not miss this chance to soak in as much crucial commercial and business knowledge as possible from some of the top speakers and enterprise gurus of the world. This quarterly event hosts pros and speakers from a wide range of industries and domains who have been explicitly chosen in order to cover talks on the current market landscape and what businesses could do in order to adapt, acclimate, and survive the ever-changing jungle of entrepreneurship.
The Virtual Office Bangkok company truly believes that the Servcorp Business Shorts will not only assist in bolstering firmer connections between organizations from different industries; it's also a dependable method of sharing information, recommendations, and experience that would benefit everyone in attendance of the event. At any rate, the topic of discussion for Servcorp Business Shorts for September 2013 is "How to Avoid Getting Ripped Off by Your Accountant and Run Over by the Revenue Department". The RSVP event will be held on Tuesday, September 24, 2013, from 5:45 PM to 8:00 PM on Level 18, Park Ventures Ecoplex at 57 Wireless Road, Bangkok, BTS Phloen Chit. In regards to the cost, people are free to attend, but registration is mandatory.
The Servcorp office in Bangkok service provider can be emailed in regards to the Business Shorts at pvb18rec(at)servcorp(dot)co(dot)th or contacted via phone at 66 02 309 3400. With that said, why exactly is there a seeming gap and fragile connection between the dreaded Tax Man, the company's accountants, and the top brass of any given corporation? In order for a corporation to work like a well-oiled machine, each and every one of its parts—its individual cogs—should be in perfect working order regardless of where they belong in the hierarchy and how "important" they are in the grand scheme of things. In order to make sure that one's accountants are working towards the best interests of management and the company at large instead of their own selfish needs, business leaders and professionals should attend this event and hear John Casella's take on the matter.
Incidentally, Mister Casella himself has the necessary background when it comes to accounting and how businesses should supervise their accountants. This is especially important for foreign businesses that are attempting to establish their brand and/or conglomerate in Thailand. Mister John Casella, CPA, CMA, and a PKF Tax and Consulting Services (Thailand) Partner, has more than twenty years of experience when it comes to management, consultancy, and everything else relating to business-level accounting. Naturally, every corporation is concerned about corruption and being caught up in under-the-table dealings. Casella can give enterprise leaders tips and recommendations on how to keep the "Tax Man" from getting his hands on their hard-earned money.