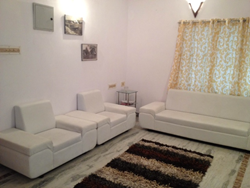 We understand how valuable your time is and hence we have ensured that we are located in a central place that is just a stone throw away from frequenting places
Chennai, India (PRWEB) December 27, 2014
Elite Stays, a rapidly-growing chain of service apartments in Chennai, Bangalore and Tirupati in India, are proud to announce the launch of their new guest houses and lodging facilities at three Metros in India. To celebrate the launch of the new apartment houses, which include a service apartment at Chennai Anna Nagar, the founders of Elite Stays have also upgraded their website.
From clients who are looking for a service apartment at Bangalore Electronic City Phase 1, to those who want an Elite Stays guest house at Tirupati for a relaxing vacation, the founders and staff at Elite Stays strive to live up to their name. In addition to offering fully-furnished and comfortable rooms that are full of amenities like LED TVs, kitchens stocked with utensils and cooking gas facilities and free WiFi connectivity, Elite Stays also strives to offer the best customer experience possible.
"We understand how valuable your time is and hence we have ensured that we are located in a central place that is just a stone throw away from frequenting places," a company spokesperson for Elite Stays noted, adding that they are ready 24 hours a day, seven days a week to host individuals, couples, families, officials, professionals, government servants, and others who are in need of service apartments in close proximity.
For example, for those who are traveling alone or with another person, the Deluxe Room Facility from Elite Stays is an outstanding choice. The double occupancy deluxe room with A/C is ideal for those on official trips or couples who are on vacation.
"These are best choices for those who are arranging rooms for guests to attend weddings and important functions," the company spokesperson said.
For larger groups, Elite Stays offers 2 BHK Facilities, which are fully-furnished, double bedroom apartments near the heart of the city. Located close to Madras Medical Mission hospital, which is one of the best in the country for Cardiac treatment, Elite Stays' 2BHKs have hosted family members of ailing patients who can stay within the reach of their loved ones.
Anybody who would like to learn more about Elite Stays is welcome to visit the newly-redesigned website; there, they can read about the company and the service apartments that they offer. To ask questions or make a reservation, people may contact Elite Stays by phone at +91 9841175555 or through the website.
About Elite Stays:
Elite Stays is a fast growing chain of Serviced Apartments and Apartment Houses that are spread across three cities and four locations. Having commenced operations in 2010, Elite Stays has added one property per year and is progressing in the right direction. For more information, please visit http://www.elitestays.co.in/
Chennai Address
Elite Stays Service Apartments
4 , behind DAV school
Akshaya colony
Annanagar Western Extension
Chennai - 600101
Tirupati Address
Elite Stays Service Apartments
650, Siva Jothy nagar
Near Alipiri Police Station
Tirupati 517501
bangalore Address
Elite Stays Service Apartments
204, Magnolia Sundance Apartment,
Doddathogur road
Electronic city Phase 1
Bengaluru 560100