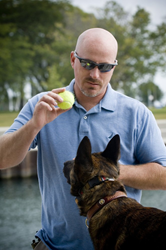 Warriors Heart is grateful to partner with Operation Overwatch Founder and Former Marine Brice Cavanaugh to provide Service Dogs to Warriors. ~ Lisa Lannon, Warriors Heart Founder and former Law Enforcement Officer
Bandera, Texas (PRWEB) June 29, 2016
To provide Professionally Trained Service Dogs to veterans and first responders dealing with addiction, PTSD and/or TBI (traumatic brain injury), Warriors Heart(first private addiction center for "Warriors Only" in the US) announces a new partnership with Operation Overwatch.
During the Warriors Heart peer-to-peer healing program, Operation Overwatch, along with a therapist, will do animal assisted therapy group sessions. Warriors will get the opportunity to work with the dogs while in treatment, which creates powerful results for both the dog and warrior. If a warrior has really connected with a dog, at the end of treatment, the warrior is given the option to take this buddy home for moral support during the long-term recovery process.
Former Marine Brice Cavanaugh, who has done Presidential K9 Support and is an expert in training dogs, founded Operation Overwatch. The program identifies appropriate dogs that are coming from a shelter or rescue situation and pairs Service Dogs with a warrior who can benefit from this life changing relationship. One of the things that Operation Overwatch does that is unique is provide basic training before the dog is paired with a warrior, which makes it easier for the two to build a bond and minimizes the stress.
The need for professionally trained Service Dogs for the "Warrior Class" (military, veterans, law enforcement officers and first responders) is critical based on these statistics.

At least 20% of Iraq and Afghanistan veterans have PTSD and/or Depression, according to RAND.
According to VA reports, 690,869 (378,993 PTSD) have been diagnosed for mental health disorders since 2001. And those are only the one's who have sought help.
Over 260,000 veterans from OIF (Operation Iraqi Freedom) and OEF (Operation Enduring Freedom) so far have been diagnosed with TBI, according to the BBC.
The results of a warrior-Service Dog relationship are profound. In one case, a Service Dog named Porter was paired with a veteran. Operation Overwatch Founder Brice Cavanaugh described this transformation, "They were each afraid in their own way (both dog and man) to bring their own baggage of anxiety and past struggles to the table. Tentative smiles and wags of tail led to real therapeutic progress. Now, counselors and trainers alike described both graduates as 'bright eyed' and 'full of life.' Porter has even accompanied his veteran and his family to Niagara Falls!"
As of this spring, Operation Overwatch started working with Warriors Heart to provide warriors with Service Dogs. The results continue to bring smiles and peace to the warriors and Service Dogs. An Operation Warriors Heart Foundation has been set up by Warriors Heart to help fund this Service Dog program. Through extensive military training and understanding, Operation Overwatch has been able to reduce the average cost of up to $30,000 down to $5,000. The only cost to the warrior in this unique program is a small application fee.
For a timely interview, please contact
Liz Kelly, Goody PR, 310-987-7207
About Operation Overwatch (Scottsdale, Arizona and Bandera, Texas):
Operation Overwatch Founder Brice Cavanaugh had been a Military Working Dog (MWD) handler, trainer and Kennel Master, training and deploying highly trained dogs and their handlers across the globe in support of POTUS, and became widely sought after for training in the realm of explosives detection. After the Marine Corps and being a Deputy Sheriff, pet training was always a side business that flourished. Training Service Dogs during that time was a passion, and training those same dogs was always at cost or donated to veterans and first responders. Operation Overwatch also trains dogs for individuals outside of the Warriors Heart program. http//operationoverwatch.org. Donations to further their needs are taken at http://www.CaninesAssistingVets.com.
http://operationoverwatch.org/
About the Warriors Heart (Bandera, Texas):
Warriors Heart provides a peer-to peer based solution to help the over 13.3 million American Warriors (Military, Veterans, Law Enforcement and First Responders) faced with the self-medicating struggles of alcohol addiction, prescription and drug addiction, PTSD (post traumatic stress disorder) and mild TBI (Traumatic Brain Injury) in a private, 40-bed facility. Along with a 28-day peer-to-peer residential treatment program, Warriors Heart will give "Warriors" the option of Day Treatment, Outpatient, and Sober Living (60 Day Minimum). With decades of experience in addiction healing, military service and law enforcement, the 3 Warriors Heart Founders (CEO Josh Lannon, former Law Enforcement Officer Lisa Lannon and former Special Forces Tom Spooner) are leading the team on this special mission of warriors healing warriors. Warriors Heart has also partnered with Mission 22. Warriors Heart Founders' work has been featured in Forbes, Chicago Tribune, KENS5 CBS News San Antonio, FOX 10 News Phoenix, PoliceOne and Addiction Pro magazine. There is a 24-hour Warriors Heart hotline (844-448-2567) answered by warriors. http://warriorsheart.com