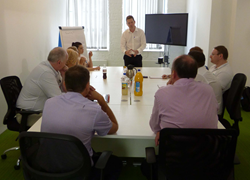 [Customers] could get ideas to improve their job management process based on feedback from other companies and Glen, our training and implementation consultant
Birmingham, UK (PRWEB UK) 19 August 2014
Following on from the success of their first software focus group, JobLogic now plan to host several more over the next six months. Customers from across England were in attendance, eager to offer their input into the next generation of service management software. After careful thought and analysis of the session's outcomes, JobLogic have decided to move forward with a process of consultation to create their new system.
Attendees were from a wide variety of service management companies in different industries that all choose JobLogic to manage both their reactive and maintenance based tasks. The focus group was held on the 31st July and attended by Fatboys (catering, Stratford-upon-Avon), HFL (facilities management, Manchester), Airco (HVAC, Hull), Northwick (fitness equipment, Pershore), Penny Lane Builders (facilities management, Liverpool) and 27 Food Service (catering, Redditch).
Planned in consultation with David Evans, a team and leadership coach at Konan Solutions Ltd, the morning session began with a short speech by directors Yacoob Moolah and James Whatmore, before moving onto activities designed to map the service management process from first contact to completion of a job. Delegates worked together collaboratively to identify a logical process despite the differences between companies and the way they went about their work.
During lunch, each service company was able to network; gaining interesting insights into the way others used their management software. They all continued to learn from each other, including ways to improve their job management process.
The afternoon session continued in the same vein as lunch, with JobLogic offering advice on getting the most out of the current version of their software. The agenda ranged from getting the best out of planned preventative maintenance to workforce management techniques such as making use of JobLogic Mobile to keep track of engineers in the field.
"The entire day went really well and was beneficial to customers as they could get ideas to improve their job management process based on feedback from other companies and Glen, our training and implementation consultant" said marketing executive Theodore Bigby.
As a result of the positive feedback they received following the event, JobLogic have decided to host more meetings over the coming months and will now begin development of an entirely new system. Development will be a consultative process, receiving input from both their in house service management implementation consultants, practical input from users and regular prototyping, JobLogic will continue to grow and improve its service management software.