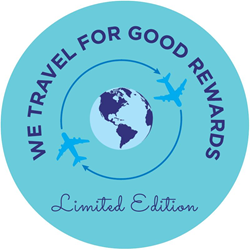 Join our fun personal service, we help people fund gift travel to change and see the world for good
Santa Monica, CA (PRWEB) January 27, 2016
Recruiting for Good, a fun cause based staffing company whose mission is "Helping People See the World for Good," launches funding travel service to help people who work and volunteer in U.S. based nonprofits, schools, and community projects; gift family and friends travel destinations to make a difference around the world.
According to Carlos Cymerman, Recruiting for Good, Founder, "People who participate in our personal funding travel service, make a difference by gifting family and friends' destinations to change and see the world for good."
How People Fund Gift Travel for Good
People simply make referrals enabling Recruiting for Good. When a candidate or client referral leads to someone getting a job, and a finder's fee is earned; a portion of the fee is allocated to fund a Goodie Vacation Destination listed on Recruiting for Good's website. The person who initiated the referral, chooses who to gift the funded destination.
Recruiting for Good, founder, Carlos Cymerman adds, "For 2016, we carefully selected fun Goodie vacation destinations to fund gift, including; Fathom's Impact+Travel Cruises to the Dominican Republic and Cuba, Outward Bound Costa Rica's Summer Expeditions, and the Hawaii Food and Wine Festival."
ABOUT
Since 1998, Recruiting for Good a fun cause based staffing company has been connecting talented Information Technology and Engineering professionals to great jobs. Recruiting for Good now works collaboratively to help people who make a difference fund gift travel; visit RecruitingforGood.com.
Fathom Impact+Travel Cruises
"It's a new kind of cruise that combines your love of travel with your desire to make a difference." For more information, visit Fathom.org
Outward Bound Costa Rica
Founded in 1991, Outward Bound Costa Rica inspires leadership, compassion, and responsibility through adventure-based wilderness experiences. Activities include backpacking, rafting, kayaking, surfing, rappelling, and scuba diving as well as cultural experiences such as homestays with local families. For more information, visit outwardboundcostarica.org