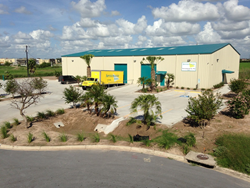 McAllen, TX (PRWEB) November 25, 2014
ServiceMaster All Pro has been providing restoration and cleaning services to the McAllen and Harlingen areas in the Rio Grande Valley since 2010 and they recently celebrated the grand opening of their newest facility in McAllen, TX. Their brand new facility was opened on October 30 of this year and it will help ServiceMaster All Pro provide quality disaster restoration for their customers in McAllen. The new building will also provide a state-of-the-art working environment for their employees. ServiceMaster All Pro provides water damage restoration, fire damage restoration, and odor removal as well as pack out and cleaning services that can be done at the new facility.
The new building for ServiceMaster All Pro is 12,000 square feet and it features a large capacity warehouse along with state of the art cleaning and deodorization rooms for off-site content cleaning. The upper level contains a large conference room with a kitchen and dining area as well as a luxurious meeting room that accommodates up to 50 people. The Grand Opening celebration for the facility on October 30 included a ribbon cutting and open house for their employees and associates to check out the new building.
About ServiceMaster All Pro
ServiceMaster All Pro began business in 2010 and provides disaster restoration and cleaning services to Harlingen, McAllen, and the communities of Hidalgo, Cameron, Waller, and Starr Counties in southern Texas. Each of their technicians is certified to provide fire damage restoration, water damage restoration, pack out services, and odor removal in commercial and residential settings. In their first year of business, ServiceMaster All Pro was awarded the ServiceMaster Rookie of the Year Award to commend an outstanding first year. Their phone lines are open 24 hours a day so their technicians can quickly respond to restoration emergencies in McAllen, TX and the surrounding areas.