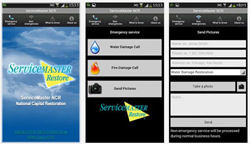 Alexandria, VA (PRWEB) November 24, 2014
Mobile devices such as phones, tablets, and other devices are becoming the main medium for accessing the internet and there are many businesses trying to capitalize on this trend with mobile applications and responsive websites. Proceed Innovative, a provider of internet marketing and SEO services, offers their clients mobile responsive website designs and mobile applications to help their clients appeal to the growing market of mobile users. The latest mobile app developed by Proceed Innovative is for their client ServiceMaster NCR in Alexandria, VA.
Mobile applications are increasing in popularity as more businesses are recognizing the benefits of mobile apps and Proceed Innovative is developing mobile applications to benefit their ServiceMaster clients. There are several benefits to using mobile apps that include maximizing business opportunities, creating relationships with customers, increasing your availability, and improving customer experience. The biggest benefit is the improved customer experience as mobile applications provide an easy user experience that full websites cannot offer and users are more likely to respond to a Call to Action on a mobile device.
About the ServiceMaster NCR Mobile Application
The mobile application developed by Proceed Innovative for ServiceMaster NCR gives their customers instant access to information they need in the immediate aftermath of a disaster and allows them to make emergency calls for assistance. The app has two emergency call buttons right on the home screen for fire damage emergencies and water damage emergencies and customers can also send ServiceMaster NCR pictures of the damage through the app. For non-emergencies, the app contains a submission form for customers to fill out and send in with pictures of the damage as well as contact information for ServiceMaster NCR. This mobile application benefits ServiceMaster NCR by providing them with a medium to reach mobile users and benefits their customers by providing them with quick information and an easy way to contact ServiceMaster NCR in an emergency. The app is available for download on Apple and Android devices.
About Proceed Innovative
Proceed Innovative is a full service internet marketing firm that provides search engine optimization, pay per click management, web design, and website promotion to help businesses improve their brand awareness and increase their conversions. They developed RestorationMasterFinder.com which is a lead generating website for their ServiceMaster clients and they have recently started developing and offering mobile applications built for their ServiceMaster clients. The goal of their mobile applications is to help their clients increase their digital outreach and conversion rates by appealing to the growing market of mobile users.