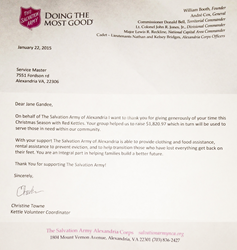 Alexandria, VA (PRWEB) January 30, 2015
Over this past holiday season, ServiceMaster NCR, a provider of disaster restoration and cleaning services to Alexandria, VA and the Washington, DC metro area, gave back to their community by raising money for the local Salvation Army. Staff members of ServiceMaster NCR donated their time and effort into volunteering to collect donations for the Salvation Army with red kettles. The red kettles are a holiday tradition of the Salvation Army dating back to the turn of the 20th century and ServiceMaster NCR was able to raise $1,820.97 to go back into their local community.
ServiceMaster NCR volunteered to collect donations for the Salvation Army of Alexandria to help benefit their local community. With the money raised by ServiceMaster NCR, the Salvation Army of Alexandria is able to provide clothing and food for those in need, rental assistance to prevent area residents from being evicted, and help for those who have lost their homes due to some unfortunate event or disaster. ServiceMaster NCR has long been trusted to help local homes and businesses recover after a disaster and their volunteer work with the Salvation Army provides help for local residents on a new level.
About Salvation Army of Alexandria and the Red Kettles
The Salvation Army of Alexandria helps residents in Washington DC, suburban Maryland, and northern Virginia by providing food, clothing, and shelter for those in need as well as assistance paying rent and bills. They became established in Washington, DC in 1885 and they have since expanded into the cities and neighborhoods of Maryland and Virginia to provide assistance to a larger area. The red kettles are just one way the Salvation Army of Alexandria helps residents in need around the holidays. This tradition was started by Salvation Army Captain Joseph McFee in San Francisco in 1891 and has since spread all over the world to help millions in need.
About ServiceMaster NCR
ServiceMaster NCR has been providing trusted disaster restoration and cleaning services to Washington DC, Ft. Washington, MD, and Alexandria, VA since 1986. They are one of the largest ServiceMasters in the U.S. and they are part of ServiceMaster's nationwide Catastrophic Response Team as an SRM command center. ServiceMaster NCR provides a range of disaster restoration and specialty cleaning services to homes and businesses as well as CE classes for insurance agents and industry professionals. They also specialize in large losses and were among the first emergency responders to arrive at the Pentagon on 9/11. For more information visit http://www.servicemaster-ncr.com or call 703.212.7000.