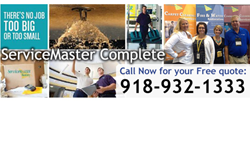 Tulsa, OK (PRWEB) April 30, 2015
For over 16 years, ServiceMaster Complete has provided reliable disaster restoration and cleaning services in Tulsa, Broken Arrow, and the nearby counties in Oklahoma and joining RestorationMasterFinder.com will help customers within their service areas easily find necessary service and contact information in case of emergency. They are the latest ServiceMaster business to get listed on RestorationMasterFinder.com with micro-sites for Tulsa and Broken Arrow, OK. RestorationMasterFinder.com was designed and developed by Proceed Innovative to provide quality, cost effective leads for professionals of the restoration and cleaning industries.
By joining RestorationMasterFinder.com, ServiceMaster Complete will improve their online visibility to help generate more search traffic and leads from those within their services areas for a higher volume of calls and conversions. ServiceMaster is a widely trusted name for disaster restoration and cleaning services and ServiceMaster Complete exemplifies the ServiceMaster standard by providing quality services to Tulsa, Broken Arrow, and the surrounding counties of Tulsa, Creek, Craig, and Mayes among others in Oklahoma.
About RestorationMasterFinder.com
RestorationMasterFinder.com, or RMF, is a lead generating website that is fully optimized to appear on major search engines such as Google, Yahoo, and Bing in addition to local, vertical, and social media web portals. It was designed and built to adapt to future updates and new technology trends so that it will always operate at peak performance and its visibility on search engines at the local and national level helps boost the online presence of listed businesses. This improved visibility will help generate high quality leads for these businesses, resulting in more conversions.
About ServiceMaster Complete
ServiceMaster Complete has been providing disaster restoration and cleaning services for Tulsa, Broken Arrow, and the surrounding communities in Oklahoma for the past 16 years. Each of their technicians has received ASD, QRV, IICRC, and Lead Abatement certification and they are ready to respond 24 hours a day for emergency services. The main services they offer include fire damage restoration, water damage restoration, carpet cleaning, mold removal, and trauma scene cleaning and they offer free estimates for these services. ServiceMaster Complete has helped with many large losses in the Tulsa, OK area including the Bethel Baptist Church, Circle of Care, and Goodard School. They can be reached 24 hours a day at (918) 932-1333 for emergency restoration services in Tulsa OK, Broken Arrow OK, and the surrounding counties.