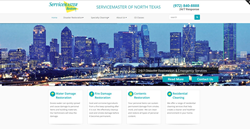 Dallas, TX (PRWEB) June 01, 2016
Proceed Innovative has recently launched the newly redesigned website for ServiceMaster of North Texas which features a modern layout, improved navigation, and a responsive design that allows it to display properly with full navigation on any mobile device. ServiceMaster of North Texas has been providing quality disaster restoration and cleaning services to Dallas, Garland, Plano, and the surrounding communities in northern Texas since 1987. The new design for their custom website is meant to help increase relevant search traffic to the website with highly optimized service pages and SEO friendly features as well as improve the user experience with better navigation and a mobile friendly design. The website update was completed by Proceed Innovative as an expansion of the digital marketing campaign for ServiceMaster of North Texas.
The new website design contains several features that have improved the look of the website as well as the user experience. The design itself has been updated with a fresh look that features improved navigation menus along the top and right side. The other important feature of this new website design is the responsiveness that allows it to display and navigate properly on any mobile device. More users are conducing internet searches on mobile devices such as smartphones and tablets and it is important for a website to have a responsive design that displays properly across these mobile devices to create a better experience for the user.
About ServiceMaster of North Texas
ServiceMaster of North Texas began business in 1987 when current owner Larry Hutson purchased the business after a 20-year real estate career. Since then, ServiceMaster of North Texas has expanded their staff and their services to provide complete disaster restoration as well as commercial and residential cleaning services for the homes and businesses in Dallas, TX and the surrounding communities. Their staff and technicians have been IICRC certified and they are committed to helping their local community as they have participated in the restoration effort for several local projects including the Fort Worth Federal Building and student housing at the Dallas Theological Seminary. They have also won numerous awards for their service including the 2005 Crawford Contractor Connection Excellence in Achievement Award and the 2011 Farmers Franchise of the Year award. For more information call ServiceMaster of North Texas at (972) 840-8888 or visit http://www.servicemasterdallas.com
About Proceed Innovative
Proceed Innovative is an internet marketing agency that specializes in providing search engine marketing (SEM) services to help businesses improve their online presence and brand awareness to attract more traffic to their website. The services they provide include search engine optimization (SEO), web design, local SEO, web analytics consulting, and pay per click (PPC) management among others. Their SEO experts work with each client to create a unique SEO marketing plan that involves several strategies designed to achieve their specific marketing goals. The web design services provided by Proceed Innovative are meant to help improve the ROI of a website by improving the user experience and updating the design with mobile and SEO friendly features. For more information call Proceed Innovative at 800-933-2402 or visit http://www.proceedinnovative.com