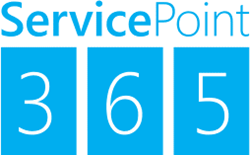 We are excited to be a featured application in Fpweb.net's solution showcase which includes free environments allowing users to get a feel for the product's capabilities
Peachtree Corners, GA (PRWEB) October 29, 2014
Cloud|AG's and Fpweb.net have teamed up to showcase ServicePoint365 for SharePoint in Fpweb.net's private cloud environment. Fpweb.net's new solution showcase features some of the best SharePoint products, add-ons and web parts available in today's market to help enhance SharePoint functionality.
ServicePoint365 is a SharePoint template application designed to support the collaboration and content management needs of organizations, project teams and individuals while eliminating the need for deep SharePoint skills. ServicePoint365 makes it easy for teams to work together and share critical business information on SharePoint sites. Colleagues and customers can access the documents they need from virtually anywhere. With your documents and information managed in one place, everyone has access to the latest version. Enhanced search features quickly locate information and people across the company, while the security features control who can read, edit and access individual documents.
"Fpweb.net has spent a long time accumulating trusted partners who develop innovative and useful products that enhance the SharePoint user and administrative experience. We are excited to be a featured application in its solution showcase which includes free environments allowing users to get a feel for the product's capabilities," says David Huseonica, President and CEO at Cloud|AG.
About Cloud|AG
Cloud|AG, a Microsoft Cloud Champion partner, provides products and services designed to assist companies of all sizes maximize the power and flexibility of Microsoft's collaboration and cloud platforms. For instructions on how to assign Cloud|AG as your subscription advisor, contact Cloud|AG at info(at)cloudag(dot)com, (855) 256-8324, or visit http://www.cloudag.com. All product and company names herein may be trademarks of their registered owners