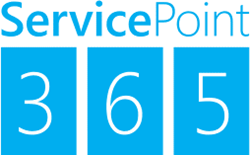 ServicePoint365 helps project management professionals unlock the value of SharePoint Online by providing a ready-made environment pre-configured for client-, project- and resource-related information
Peachtree Corners, GA (PRWEB) January 30, 2015
Cloud|AG announces a special offer where they will give away up to 1,000 seats of its ServicePoint365 template application for Office 365 SharePoint Online to PMI members. The offer is intended to help PMI members leverage the power of Office 365 SharePoint Online for their projects and teams.
ServicePoint365 is an Office 365 SharePoint Online based template application designed to help project management professionals unlock the power of SharePoint Online without the need for deep SharePoint skills. ServicePoint365 comes pre-configured with an intuitive user interface and information architecture that organizes content into a structure that takes the guesswork out of where information is created and stored. Project team members and customers can access the documents they need from virtually anywhere. With documents and information managed in one place, everyone has access to the latest version. Enhanced search features help team members quickly locate information, while the security features control who can read, edit and access individual documents.
"Many PMI members want to leverage Microsoft's Office 365 and SharePoint Online for their projects but don't have the skills necessary to configure a custom SharePoint Online environment. ServicePoint365 helps them unlock the value of SharePoint Online by providing a ready-made environment pre-configured for client-, project- and resource-related information," said Michael Ganote, VP Sales at Cloud|AG.
Seats will be given away on a first-come first-serve basis and are limited to a maximum of 5 seats per PMI member while supply lasts. Additional seats can be purchased at a reduced cost. PMI members interested in the ServicePoint365 free seat offer should visit Cloud|AG's PMI Special Offer page for more information and to reserve their seats.
About Cloud|AG
Cloud|AG provides products and services designed to assist companies of all sizes maximize the power and flexibility of Microsoft's Office 365 and Azure cloud platform. For additional information, contact Cloud|AG at info(at)cloudag(dot)com, (855) 256-8324, or visit http://www.cloudag.com. All product and company names herein may be trademarks of their registered owners.