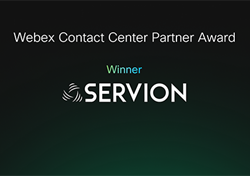 PRINCETON, N.J. (PRWEB) November 09, 2021
Servion, a leading contact center and CX solutions provider has been recognized as the Webex Customer Experience Partner at the recently concluded WebexOne 2021 conference. This award emphasizes and recognizes Servion's success with selling and implementing Cisco Contact Center solutions to help customers deliver best in class customer experience.
Servion, a certified Cisco Gold Provider Worldwide partner, is one of the few solution providers that can sell, install, integrate, support, and deliver best-in-class customer experiences on any of Cisco's collaboration and contact center platforms globally. The company leverages its global resources and accommodates local regulations. Servion also makes its contact center expertise available through its 24x7 managed services.
"Servion is proud to be recognized as the Webex Customer Experience Partner. This award substantiates our strong partnership with Cisco for over two decades, our competence and expertise in Cisco contact center and collaboration technologies," said Animesh Shrivastava, Managing Director – India & Middle East at Servion. "Our broad expertise on Cisco Contact Center solutions gives us the ability to advise, design, build, run, optimize and deliver best-in-class CX solutions for our customers."
Servion has been a Cisco Advanced Technology Partner since 2006. It has over 350 Cisco-certified engineers and has implemented more than 500 Cisco-based contact center solutions. The company enjoys one of the highest Net Promoter Score (NPS) in the industry, over 75 for 2020.
About Servion Global Solutions   
For more than 25 years, customer-centric brands have trusted Servion to design, build, run, and optimize Contact Centers and Customer Experience (CX) solutions. Servion delivers complete solutions for businesses to innovate in providing digital experiences using the best available technologies while maximizing their existing investments. Our 800 CX professionals apply their passion and deep domain expertise to the entire design-build-run-optimize solution lifecycle. Servion has helped 600 enterprises across the globe deliver great experiences to their customers, partners, and employees. For more information, visit https://servion.com.