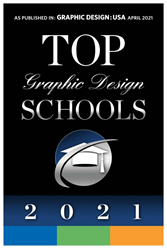 "Our rigorous programs provide our graduates the skills, portfolio, and career training needed to succeed in a dynamic and creative career in the visual arts." - Doris Granatowski, CEO
TEMPE, Ariz. (PRWEB) October 11, 2021
Sessions College, a pioneer in online education for adult and college age learners, has again been awarded multiple industry recognitions for its affordability, quality and design expertise.
For the eighth consecutive year, the U.S. Department of Education has ranked tuition for Sessions College degree programs as the tenth lowest in the United States for schools for its category.
In addition, Graphic Design USA, a business-to-business information source for graphic design professionals, again named Sessions in its 2021 Top Graphic Design Schools. Sessions is the only fully online school to make the list, placing it alongside some of the most prestigious schools in the United States.
In recognition of Sessions College's own design capabilities, its recently released video, Start Your Creative Career at Sessions College, is showcased as a winner of the Graphic Design USA (GDUSA) 21st Annual American Web Design Awards.
Sessions College was chosen from more than 2000 submissions from an array of organizations, and winning selections included websites, microsites, apps, online advertising, social media, video and UX/UI Design.
"Since 1997, Sessions College has focused on preparing students for dynamic and creative careers in design," stated Doris Granatowski, CEO. "Our rigorous programs provide our graduates the skills, portfolio, and career training needed to succeed in a dynamic and creative career in the visual arts."
True to its mission, Sessions' innovative asynchronous project-based educational paradigm results in the specific skill based needs of design industry employers and clients.
As the industry has shifted, tech companies are needing an endless amount of creative talent with skills and disciplines associated with digital media, video, and branding. According to recent research, the demand is especially strong for graphic designers, video editors, social media producers, digital artists and photographers.
About Sessions College for Professional Design
Sessions College is the pioneer in accredited and affordable online skills-based education that readies adult and college age learners for the digital design workforce. Founded in 1997, Sessions College offers project-based bachelor and associate level degrees and certificate programs for in demand careers in art, design, and photography. Students learn via real world projects that reflect the latest industry-relevant skills. Sessions College is accredited by the Distance Education Accrediting Commission (DEAC) and the Middle States Commission for Secondary Schools (MSA-CSS) and is approved to deliver its online degrees and programs throughout the United States by the National Council for State Authorization for Reciprocity Agreements (NC- SARA).
About the U.S. Department of Education - CATC
The College Affordability and Transparency Center was designed by the U.S. Department of Education to meet requirements in the Higher Education Opportunity Act and to provide better information to student and parent consumers about college costs. It serves as a central point to several tools that allow users to compare colleges tuition and fees, net price, and other characteristics.
About Graphic Design USA
For nearly 60 years — since 1963— Graphic Design USA (GDUSA) has been a business-to-business information source for graphic design professionals.
GDUSA covers news, people, project, trends, technology, products and services. The GDUSA brand now includes a 100,000 visitor-a-month website, a monthly e-newsletter, a digital version of the magazine formatted for desktop, tablet and phones, and several national design competitions that culminate in Annuals showcasing the best in Graphic Design, Inhouse Design, Web Design, Package Design, Healthcare Design, and Digital Design.