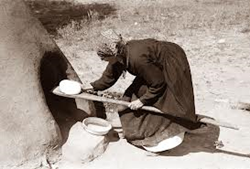 Authentic Experiences to Feel Physically and Cognitively Refreshed
Santa Fe New Mexico (PRWEB) March 04, 2014
Seven Directions Custom Tours is announcing their latest excursions entitled "An Affair with New Mexico." The title reflects the true authenticity of the unstaged excursions slated to run from May-October.
Seven Directions Founder and CEO Patrizia Antonicelli describes the expeditions saying, "In an age where travel tours are often fabricated and produced, New Mexico is still very authentic. Nothing is staged. Guests are immersed in the unique culture and beauty of New Mexico as it was thousands of years ago. It's a very pure and organic experience."
Patrizia went on to explain no Seven Directions excursion is the same because each traveler brings their own unique personal experiences.
"The DNA of New Mexico is an unequalled mixture of Native American, European, and Mexican cultures. It is a land of ancient tribes, conquistadores, intrepid women, outlaws, extraterrestrials, miners, artists, and creative spirits. Guests will immediately soak in the natural beauty, but many other qualities require time to grasp."
Guests can choose from customizable one or two day experiences with highlights including the preparation and eating of a traditional Pueblo Feast Day meal while learning about ancient traditions, discovering how to grow intoxicating lavender ointments and teas, climbing cliffs where past civilizations lived thousands of years ago, and toasting to life over local organic wine made with tendrils brought over by 15th century Friars.
Second day highlights underscore the spiritually and physically invigorating activities including a yogic journey surrounded by nature, lunch on a secluded patio garden, interpreting messages scrawled on volcanic rocks by ancestors, and an intimate session with a Pueblo artist discussing the symbolism and uses of traditional pottery.
Guests can be transported by a chauffeur-driven vehicle, a guide, or can venture out on their own.
Antonicelli concluded, "Guests leave feeling physically and cognitively refreshed, and with a new affinity for the New Mexico way of life."
Contact Seven Directions Tours to learn more about "An Affair with New Mexico" and to arrange a custom experience.
For further information and media inquiries: Patrizia Antonicelli – Tel.505.820.3305
About Seven Directions Tours:
Offering over a decade of experience in the Southwest, Seven Directions | Cultural and Sustainable Tours http://www.sevendirections.net has established itself as one of the preeminent sustainable tour operators in the Southwest and caters to a wide-ranging audience looking for hands-on experience that can put them in touch with the landscape and the people. Seven Directions Tours caters to large and small groups, and individuals.