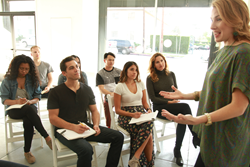 Seven Pillars Acting isn't about tricks or guruism. It's about giving the actor a solid craft she can utilize to book exciting work.
Studio City, CA (PRWEB) April 29, 2017
This June Seven Pillars Acting Studio will launch an array of classes and day workshops for serious actors in Valley Village, Los Angeles. The studio's teachers instruct Seven Pillars Acting, a cutting-edge, internationally patented and published technique designed to give the modern actor powerful tools to craft a role. Designed for film and television, courses are divided into technique and scene study classes, providing opportunities for both new and veteran actors to advance toward their goals. Seven Pillars is helping actors achieve great success in network television, independent film, national commercials, live tours, acquisition of representation, and more.
Seven Pillars Acting Studio offers a unique and innovative approach to acting. Inspired by such famous acting theorists as Sanford Meisner, Jerzy Grotowski, Kostantin Stanislavski and Declan Donnellan, creator Sonya Cooke used studio research & practice to evolve their classical methods into a clear and potent system. Seven Pillars Acting adapts foundational acting techniques of the twentieth century into a modern process, borrowing from recent advancements in psychology, sociology, and metaphysics to reflect the evolving contemporary aesthetic of acting on film. Seven Pillars cultivates autonomous and empowered actors, who embody the tools that create easeful, specific, and transformative performances. The technique is for the modern actor who seeks a craft that will catalyze her talents.
Creator and author Sonya Cooke developed the Seven Pillars technique and curriculum at The Actor's Studio of Orange County, based in Santa Ana, where over two thousand students have trained. Cooke received degrees in acting from NYU's Tisch School of the Arts and UC-Irvine's Claire Trevor School of the Arts and has worked in every acting medium – from syndicated television to regional theater. Cooke opened her own acting studio and began writing ideas about technique while still living in New York. Her manifesto of the technique, Seven Pillars Acting, will be published by Rare Bird Books this fall.
May is studded with free events and workshops, starting May 10th from 6:30-9:00pm with limited availability. Ten-week-long courses begin the first week of June. Classes will be held on Mondays and Wednesdays from 11:00am-1:30pm and 6:30-9:00pm. Private coaching is also available. To sign up for a class, visit the classes page or contact the studio directly at 949-307-1404. Classes will take place at their new location: 12722 Riverside Drive, Suite 201, in Valley Village, close to North Hollywood and Studio City.