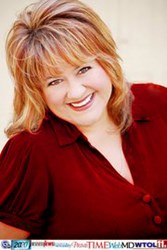 SexTalk LIVE! is edutainment - a cross between educational and entertaining programming. Come learn and laugh! Sunday nights 10p to midnight EST!
Bowling Green, OH (PRWEB) September 15, 2013
Entering the seasonal lineup of SexTalk LIVE! radio show's eighth year, host Andrea Adams-Miller, relationship consultant, interviews two interesting talents: Mailyn Faulkner, vocalist, and author, Jon Morgan Woodward, Sunday night September 15th, 2013 from 10p to midnight EST.
The show SexTalk LIVE! will be on 88.1FM WBGU in the NW Ohio area. Additionally, the show will be webcast internationally. Listen LIVE to the webcast via [http://www.igniteyourrelationships.com/sex-talk-live-radio/
SexTalk LIVE! is an edutainment program providing real frank discussions about sex, sexuality, relationships, products, books, and services relating to sex, sexuality, and relationships in a positive educational environment.
Call-ins to SexTalk LIVE! can be made at the telephone numbers 419-372-8810 and toll-free at 1-899-792-4836. All calls are pre-screened before being aired.
Adams-Miller, host of SexTalk LIVE! the past eight (8) years shares, "While humor, song, and news are between the interviews during this two (2) hour weekly program, we aim to provide a candid dialogue with real people about real situations for the purpose of education and enlightenment. While we laugh a lot on this program, all of our guests and callers are treated with respect."
In the first hour, Andrea's candid interview with Mailyn Faulkner, an openly gay lead singer for the band "HerRisin,'" and former Carnegie Hall vocalist reveals the complexities of how music gave Faulkner a voice to find acceptance and build confidence surrounding her sexuality.
After meeting Faulkner a second time in Denver, CO while speaking at a conference, Adams-Miller realized that Mailyn Faulkner's positive attitude and general disposition would make a her a fabulous guest for Sex Talk LIVE!
"The moment another speaker joked about having a poster of Cheryl Teigs on his wall as a teenager and Faulkner yelled out, "Me, too!" I realized she would be a lot of fun and a lot of help for our audience who might still be struggling with their own or a loved ones sexuality as she can discuss such a topic with sincerity, warmth, honesty, and humor."
"Mailyn with her beautiful voice and a passion for laughter will share her personal trials and tribulations of coming out as a gay woman and share how song gave her the opportunity to be comfortable with herself as her sexuality blossomed," added Adams-Miller.
Giving contrast to the two programming, Andrea Adams-Miller will interview the author of the new werewolf thriller saga "Hidden Valley: The Awakening." The societal attraction of werewolf themed movies combined with Hidden Valley's laden descriptions of sexual exploits caused Andrea to field the questions her audience would be asking Mr. Woodward about writing such sexually charged scenarios.
The book 'Hidden Valley: The Awakening' is the first of five adapted screenplays about the 'Hidden Valley" Saga Series where the introduction to the occurrences within this small town shows the depths of the mystery of the suspected werewolf killings.
The movie "Hidden Valley: The Awakening" is due out in 2014 and includes an amazing cast and crew including well known names such as:

Boo Boo Stewart, Actor, formerly known as the character Seth Clearwater in the Twilight Saga Eclipse.
Malcolm McDowell most known for his villain type characters and for taking controversial roles. His films include "Caligula" and "Clockwork Orange." He is a Golden Globe nominee, National Society of Film Critics nominee, and New York Film Critics Circle nominee.
*John Buechler, Director, most notable for his work in as either director, production, special effects, or makeup artistry for the following films: Halloween 4: The Return of Michael Myers, Friday the 13th Part VII: The New Blood, Nightmare on Elm Street 4: The Dream Master, and more...
The phenomenon of confusion between fear and sexual arousal will be by Adams-Miller and her guest Jon Morgan Woodward in relation to his sexually explicit scenes within the book and the pending movie.
More information about the book 'Hidden Valley: The Awakening' is available at http://www.HiddenValleyTheMovie.com. Additionally, the book is available online at Amazon, Barnes & Nobles, Books-a-Million, and e-books are available for Kindle or get the books straight from the publisher at http://www.TheREDCarpetConnection.com
To inquire more about the host of SexTalk LIVE! and/or to book Andrea Adams-Miller for your next program or conference or interview, Contact TheREDCarpetConnection.com Publishing, Publicity, and Talent Agency at info(at)TheREDCarpetConnection.com .
About Andrea Adams-Miller:
Andrea Adams-Miller, host of SexTalk LIVE! Radio Show is a relationship consultant, keynote speaker, and best-selling author. She is the CEO of IgniteYourRelationships.com. Known as "The Leading International Authority on Healthy Relationships" by the media, Adams-Miller has been in the media for NBC, CBS, ABC, FOX, PBS, Gene Simmons Family Jewels, 20/20, TIME magazine, MORE magazine, and other radio, television, and print media.
With Andrea's unique style, candid interviews, and varying topics, her show has with a Diversity Award recognizing Adams-Miller for her excellence in quality educational programming.
Well into her 8th year of hosting, Andrea prides her show for providing education, enlightenment, and entertainment that is candid without being distasteful or disrespectful of others opinions or lifestyles.