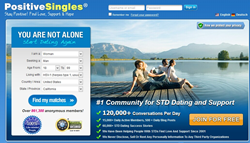 Los Angeles California (PRWEB) March 17, 2015
According to members of the largest herpes dating site PositiveSingles.com, refraining from any sexual intimacy, short of traditional mouth-to-mouth kissing, both allows the couple opportunities to learn other things about each other and promotes alternative means of communicating.
A big number of users hold the opinion that love comes from respecting the partner above all else. This means that the traditional three date rule would not have to become the unspoken rule of sex. Most people believe that having sex in the dating process can lead to many reckless decisions.
Other members stated that some couples could determine based solely on their sexual experience of each other, they could never be together in a long term relationship if they are not sexually compatible.
The opinions in this area have shown that even though herpes singles are spread throughout the globe the question is quite individual. Love is believed to be felt mentally and physically. At the base of any relationship there is a commonly agreed foundation, sexual compatibility.
Aside from sex being banished altogether from romantic relationships or just a means to pass time in a pleasant mode, the third option the member chose was the meaningful sex shared by two partners who truly care for each other. Liking a person is the basis of a truly changing relationship where communication and experimentation go hand in hand.
Want to know more? Please visit: http://www.positivesingles.com/