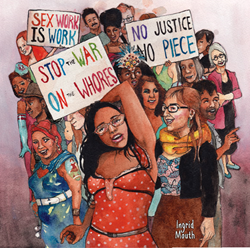 As a marginalized but not monolithic group, our stories are compelling and ultimately instructive, like commentary from folks constructed as "outsiders" often can be.
San Francisco, California (PRWEB) May 18, 2017
Over the course of 10 days, the Festival at sexworkerfest.com will focus on lives, art, and the struggle for workers' and human rights, while maintaining a forum for diverse voices, including queer and trans sex workers, sex workers of color, youth, migrant sex workers, and sex workers' rights organizations around the globe.
"As a marginalized but not monolithic group, our stories are compelling and ultimately instructive, like commentary from folks constructed as "outsiders" often can be. Sex work is the perfect storm of intersectionality; class issues, labor issues, poverty and underground economies, issues of sexual and gender freedom, racialized economic and aesthetic issues, queer, children's and wimmin's rights."
-- Laure McElroy, Festival Curator
Sexy, smart, and political, the Festival kicks off with "Grab your P*ssy and Run, and Other Tales of Community and Survival," a timely edition of Gina Gold's storytelling series. Next up is Cinnamon Maxxine, a self-identified 'naked brown, fat, curvy, queer, big booty, space perv, fierce solid gold warrior diva' who challenges boundaries of politics of gender, size, art and race. This opening night party takes place at the historic 'Geoffrey's Inner Circle' in Oakland (Best Buffet in the Bay!), where owner Geoffrey Peete has played a central role in the radicalism of the 60's.
Other performance events include Lady Monster's "The Cans: Sex Workers and Burlesque." "The Cans" explores the contemporary art form of burlesque while honoring the rich history of burlesque art and culture. Movies include 'Best of Fest' selection, Amy Oden's "Exotic," exploring working conditions in the secretive world of the dancers in Guam, plus live performances by The Incredible Edible Akynos, Max Madame and Jet Noir.
The Workshop Residency of Jovelyn Richards (AKA Sangria Red) extends through the season; Teacher, performer, coach, writer, singer and Pacifica/KPFA Radio Host, Richards presents "Strippin' Down to Story," a musical drama performance and a workshop based on her own improvisational JAZA, as well as other approaches including 'Theater of the Oppressed.' Sex worker participants interweave their own stories with the biography of Dr. Diane Edwards, circa 1930, who was stripped of her medical license and, under the influence of Jazz, transformed into Sangria Red, a striptease artist in one of Harlem's most exquisite clubs.
For another San Francisco adventure, "Fashion Wh*re: An Anti-Capitalist Fashion Show + Dance Party" at the Stud will help the audience resist capitalist destruction of their bodies and spirit while smashing the patriarchy.
Activist and educational highlights include SWAG (Sex Workers Advocacy Group): Centering Black and Brown Trans Femme Sex Workers; "Money Magic, Sex Worker Safety and Self-Care: with the St. James Speaker's Bureau" and Wh*re School with the Incredible Edible Akynos."
"This job makes me crazy"? Or "i gotta be crazy to do this job"? Unlike other jobs, the stigmatization of sex work can add a pervasive emotional pressure to work that is already unsupported at best, and at worst, outlawed in US society. A panel on "Sex Workers and Mental Health" will take place at the iconic SF Women's Building.
Movies play throughout the week at various venues. Much of the work showcased addresses sex worker repression, stigma and the violence aimed at sex workers, while recognizing the courage of artists and activists. 2017 selections reflect a new trend in sex worker cinema. Sex workers are defining themselves, stepping out of the prurient glare of voyeurism and taking the lead as filmmakers, producers and artists.
Recently sex workers were empowered after flexing their collective muscle and shutting down an exploitative ambush show. See "Tits and Sass: A&E Pulls 8 Minutes From The Air." As the new sex worker defines themselves, this direction is also reflected in work by other filmmakers. In "EKAJ" by Cati and Mike Gonzalez, young men trading sex are portrayed as complex and multi faceted human beings. "Magic in Queer Shorts" a screening assembled by Festival Director, Erica Elena, offers sex worker perspectives in "a varied collection of personal, intersectional and controversial portraits of the divergent experiences of being a sex working queer in a marginalized world." In another "Best of the Fest" movie, young maker, Alli Logout's "Lucid Noon, Sunset Blush," portrays queer Black and Brown femmes in a small Texas town with fierce beauty, pride and compassion.
"Gifts of Love and Freedom" at Artists' Television Access includes "Devil in Plain Site," a deconstructed crime drama by local filmmaker Matt Reaves which disturbs assumptions and stereotypes about the nature of relationships between sex workers and the people in their lives. Blossom in Midnight is surprise narrative from China, produced in conjunction with a rural sex worker project, which presents a sympathetic view of the suffering of a poor rural woman while breaking that tired rule, that a sex worker must always be punished in the end.
The San Francisco Department on the Status of Women welcomes sex workers into San Francisco City Hall this year, sponsoring a screening of "No Human Involved" by PJ Starr about the death of Marcia Powell while she was in the custody of the Arizona prison system for a prostitution arrest.
Screenings are topped off at the "Sex Worker Movie Marathon," at the Roxie Theater with a 'Best of the Fest' surreal comedy by local maker Madsen Minax. Eve Minax stars in "Kairos Dirt & the Errant Vacuum" about pansexual middle school lunch lady, genderqueer student and astrologer/phone sex operator/psychic medium who share access to a mysterious carnal dimension.
As always, the festival proudly culminates in Whores Bath, a "magical healing" event by and for sex workers as described in the Urban Dictionary (p7).