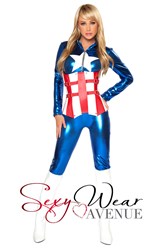 Mixture of Naughtiness and innocence, the School Girl costume has been a long time favorite for Halloween or for any theme party.
Encino, CA (PRWEB) September 27, 2013
With Halloween right around the corner, shoppers have started planning to find the right finishing touches to their sexy costumes, and at SexyWearAvenue.com, online retailer of women's Sexy Halloween Costumes, Clubwear and lingerie, provides the hottest styles available this year and all at the most affordable prices. Sexy Wear Avenue has an amazing customer base that year after year makes the website more popular. According to Mr. Leylekian, the CEO of the company, "Sexy Wear Avenue strives to meet the needs of its customers by offering exclusive promotions such as coupons, free shipping or giveaways, in addition, to prompt delivery services and excellent customer service"
This Halloween season, SexyWearAvenue.com is offering its customers the most sexy, trendy and attractive costumes, with more than 45 new costumes added to their wide range of costume collection. In addition, Sexy Wear Avenue's way of saying Happy Halloween to all its customers is by offering them a coupon code of 15% Off the entire order. So ladies, it's never too early to start planning for the ideal costume.
Sexy cop costumes are a hot treat this Halloween. With Sexy Wear Avenue thrill and adventure make for fun times. Customers can choose anything from the five-piece, deluxe sexy swat agent costume that features a black long sleeve fishnet crop top with black wet look bodice, black waist cincher with a lace-up back, crossover straps, buckle details, black pants. For sure the classic eight piece sexy police woman costume features a blue crop top with zipper front, black faux leather cuff and collar with studded trim detail, matching high-waisted shorts and accessories takes center attention!
Pirate costumes are always a hit at SexyWearAvenue, and this year the company offers some of the most fantastic and intricate designs available on the market. Pirate costumes are recognizable and fun to wear because it gets one to act the character with a personalized twist. Same goes for the stunning Caribbean couture costume that steals the festival with absolute glamour and style. The three-piece sexy pirateer costume includes a white ruffled bra top with jeweled ornament front detail, attached peasant sleeves, gold waist cincher with a lace-up back. Another new costume is the five-piece seductive pirate wench costume that features a peasant-style top with ruffle trim, brown, dual lace-up front corset, zipper back, black capri pants, belt with rhinestone buckle and sword. Interested customers are also encouraged to consider the hot and attractive pirate maiden, pirate princess or the classic and sexy pirate costumes.
Superhero costumes are always a popular choice at SexyWearAvenue. This year Sexy Wear Avenue is proud to introduce the sexy American hero costume, Heroine hottie costume, comic cutie costume and the sexy All American Costume that is expected to will the top seller this season.
Customers can fulfill their fantasies in the school girl costume. Mixture of naughtiness and innocence, the school girl costume has been a long-time favorite for Halloween or for any theme party. It's no surprise that theFrench Maid Costumes are high on the popularity list on SexyWearAvenue.com's website. It is another super flattering costume which has been popular for decades. It generally comes in slimming black, accented with white ruffles under the short skirt.
Sexy Wear Avenue does not leave out an important group - beautiful ladies who want to feel sexy and have fun in plus size costumes. A wide range of Plus Size Costumes are also found on the website.
Army costumes have always been a hit at Sexy Wear Avenue, and this year the company offers more than 50 sexy army and military costumes for all the beautiful ladies that want to stand out from the crowd. Always a frontrunner is the Native American Costume; this year Roma introduces the top seller One piece Native American Temptress, along with the Indian Mistress and the Indian Hottie Costume.
Sexy Wear Avenue strives to make this Halloween season unforgettable and fulfilling of its customers' fantasies.