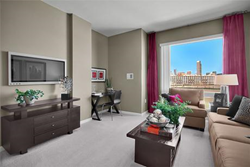 San Francisco is a unique American city in a variety of ways.
San Francisco, Ca (PRWEB) October 28, 2015
Key Housing, one of the top-rated services for short-term housing in California, is proud to announce that Bayside Village has been awarded the status of featured apartment community for the San Francisco Bay Area for November, 2015. In the selection of a featured apartment community in San Francisco, and surrounding the Bay Area, Key Housing is helping those people in need of corporate housing to identify suitable quality housing in a market which is among the very tightest in the United States.
"San Francisco is a unique American city in a variety of ways, some charming (the Victorian 'Painted Ladies'), some interesting (complex geography shaped by hills and water), and some just plain vexing," explained Robert Lee, President of Key Housing. "The vexing part is the rental market for short-duration San Francisco corporate housing. People want to be in San Francisco because it is such a vibrant place, a center for high-technology as well as a hub for Pacific trade business. Consequently the demand is high and the rental market is very constrained. At times finding a good situation can resemble finding a needle in that proverbial haystack. Some people have resorted to ridiculously long commutes when faced with this daunting challenge. A better option is to have a partner in the search, one who understands the local market, which is where Key Housing comes in. To take some of the frustration out of finding a suitable apartment, we here at Key Housing have selected Bayside Village to be featured in November."
Interested parties can view the property at http://www.keyhousing.com/rightside.asp?action=form3&ID=730. It is located at 3 Bayside Village Place San Francisco, California.
To browse other available San Francisco corporate housing please visit http://www.keyhousing.com/GMcontact.asp?location=San%20Francisco. One can easily sample the variety of available short-term housing for corporate renters available San Francisco and surrounding areas.
Exciting Features of November's Featured San Francisco Corporate Housing Community
The expertly maintained and lushly landscaped grounds catch the eye when first arriving at here. A park-like setting with bubbling fountains induce a sense of calmness and serenity. Be ready for more surprises (of the pleasant kind), as Bayside Village is not a run-of-the-mill example of San Francisco corporate housing. There are a variety of apartment floor plans to choose from, designed to hit the sweet-spot for discerning clients. Some units have territorial views of the city, complemented by floor-to-ceiling windows, others opt for a calmer scene, facing the garden/courtyard, even opening out to balconies or patios as appropriate. All apartments have full kitchens and appliances, spacious closets, tile baths, and laundry facilities located conveniently close by.
Bayside Village places an emphasis on keeping fit and staying healthy. What other San Francisco corporate housing location can boast of this multiplicity of three's? Three spas, three heated pools, and three dry sauna rooms for men, and three more for women! In addition there are both cardio and weight rooms. A extra-special amenity: yoga and aerobic classes on-site, nothing could be more convenient (nope, not in Kansas any more!). Of course the more traditional 'recreation' room is also available, with large-screen TV's to view (one needs to rest after exercising, naturally).
Yet another option for for exercise presents itself in the possibility of a run along the Embarcadero, which is just steps away from Bayside Village. As its name implies, it is located along water, but not just any waterfront, the premier location in San Francisco.
While getting to and from San Francisco corporate housing can be challenging, Bayside Village has anticipated the problem and offers a daily shuttle to the financial district. Multiple flavors of taxi service–including Yellow, Uber and Lyft–can also get residents where they need to be (traffic permitting), but if nothing but a car will do, secure underground parking is also available.
Due to the nature of the market, availability at any particular location cannot be guaranteed. But Key Housing has many other available opportunities in the hot San Francisco and Bay Area rental market. Interested parties are recommended to either use the website, or contact Key Housing directly for personal assistance with their San Francisco temporary housing needs.
About Key Housing
Based in Folsom, California, Key Housing Connections Inc. specializes in corporate housing and corporate rentals in large cities like San Francisco, Los Angeles or San Jose as well as smaller cities like Fresno, San Diego and Sacramento. Whether the need is for a serviced apartment or a short term rental, corporate housing or short term apartments, just browse our listings to find the rental that fits one's housing needs. We are competitive with extended stay hotels in cities such as Cupertino, Santa Clara or even Long Beach, and many nurses, interns and people seeking pet friendly corporate rentals or corporate relocation services depend on us for their furnished apartment or other temporary housing needs. Whether after Los Angeles corporate housing, short term rentals in San Francisco, or a serviced apartment in San Diego - we can aid the search for the right apartment in the Golden State. After all, we're among the top-rated short-term apartment listing service in places like Redwood City, Santa Monica, Newport Beach and just about every city in California. Whether it's serviced apartments or a furnished rental, just search, click or call today!