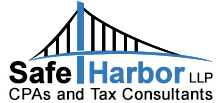 No person is an island.
San Francisco, CA (PRWEB) May 29, 2015
Safe Harbor LLP (http://www.safeharborcpa.com/), one of the San Francisco Bay Area's top accounting firms, is proud to announce the public release of its June, 2015, San Francisco Tax Tips Bulletin. The accounting firm specializes in helping high net worth individuals as well as businesses with tax, accounting, and financial planning issues. The latest edition of the firm's tax bulletin helps San Francisco high income individuals and businesses learn more about key issues that may impact their retirement, personal, and business tax planning.
"No person is an island," commented Chun Wong, CPA, managing partner at Safe Harbor LLP. "Our clients come to us as people who will retire, often people who have children getting married, and (unfortunately) as people who might be going through a divorce. Our latest newsletter touches on all these issues."
To read the newsletter, please visit http://www.safeharborcpa.com/san-francisco-tax-tips-june-2015/. There one can follow the company's blog and stay informed regarding accounting issues for San Francisco Bay Area residents.
Highlights of the June, 2015, San Francisco Tax Bulletin
The June edition of Safe Harbor LLP's tax bulletin contains information on the following topics:
Social Security's Waiting Game: When, Why, and How to Take Social Security Benefits
Weddings: Controlling the Costs of Weddings
Divorce and Business: Being Rational about Keeping One's Business during a Divorce
About Safe Harbor LLP – a Professional CPA Firm in San Francisco
Safe Harbor LLP is a CPA firm that specializes in accounting and tax services for individuals and businesses throughout the San Francisco Bay Area and greater California. Safe Harbor CPAs helps both individuals and businesses with tax preparation, IRS audit defense, and audited financial statements. The firm prides itself on friendly yet professional service and utilizes state-of-the-art Internet technology to provide quality customer service.
Safe Harbor CPA
http://www.safeharborcpa.com
Tel. 415.742.4249