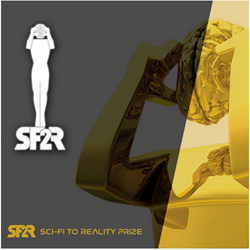 The SF2Reality PRIZE Sweepstakes and Contest is designed to encourage innovation and propel science and humanity forward with over $12,500 total in prizes.
Los Angeles, CA (PRWEB) September 08, 2016
As millions go back to school around the world, TEDx Speakers, Authors and Publishers Yasser Bahjatt and Ibraheem Abbas announce their publishing company Yatakhayaloon (UAE-based) will sponsor a 1-year (September 7, 2016 – July 31, 2017) SF2Reality PRIZE Sweepstakes and Contest to encourage innovation and propel science and humanity forward. The SF2Reality PRIZE will include 5 Phases, a referral sweepstakes, photo contest, video contest, fan voting, judges, prizes, top award of $10,000, and a grand total of over $12,500 in prizes.
As a Singularity University graduate (co-founded by Peter Diamandis, XPRIZE Founder), TED translator and TEDx Speaker, Yasser Bahjatt believes "If you want to advance science, you have to advance Sci-Fi culture." In his TED@Doha Talk, Yasser explains most technology has been foreseen at least 20 years in advance in science fiction such as the "Star Trek" Communicators that are now our smartphones. This innovative SF2Reality PRIZE is based upon a XPRIZE Challenge model where teams compete to invent new technology that can propel humanity forward.
To advance science and build a sci-fi culture, Yatakhayaloon ("They are Imagining") is dedicated to publishing sci-fi content (books, movies, TV). After being rejected by many publishers, Yasser and Ibraheem started Yatakhayaloon. As a result, the company has now sold over 250,000 books for 4 books written in English, Spanish and Arabic since 2013.
The SF2Reality PRIZE goal is to inspire innovative minds to bring two technologies to reality that are described in Yatakhayaloon's third book, "Yaqteenya: The Old World" by Yasser Bahjatt. This book is a fictional novel about an alternate history where a young man from Yaqteenya tries to stop his nation's first war in 300 years.
SCF2Reality PRIZE Contest
Invention 1: Liquid Chemical Camera – Invent a camera that operates on liquid chemicals and uses different methods to capture the images (works like Polaroids). You spray liquid on paper, leather or cloth. It must have no shutter.
Invention 2: FM Audio Recorder – Invent an Audio Recorder that uses FM modulation to physically record audio data rather than AM modulation that is used currently to record our data in all its forms.
Anyone can enter the Phase 1 SF2Reality PRIZE Sweepstakes, and earn extra points by referring friends. The SF2Reality PRIZE Sweepstakes and Contest prizes will include a Polaroid PIC-300 Instant Film Camera, gift certificates and cash. There are 5 SF2Reality PRIZE phases with rewards for each.
BIG PICTURE of SF2Reality PRIZE:
Phase 1 SF2Reality - Referral Sweepstakes (1-2 months, Sept-Oct 2016) - Random Drawing Sweepstakes based on "Registering" and Referring people
Phase 2 SF2Reality - Photo and Voting Sweepstakes (3-7 months, Nov 2016 – March 2017) - Random Drawing Sweepstakes
Phase 3 SF2Reality - Photo and Voting for Works in Progress (8-9 months, April - May 2017)
Phase 4 SF2Reality - Video and Voting for Works in Progress (Month 10, June 2017)
Phase 5 SF2Reality - Final Contest Judging and Money for PRIZE winner for top invention (Month 11, July 2017 - see Rules for details)
Born and raised in East Lansing, Michigan, Yasser Bahjatt points out in his TED Talk that "Aladdin", "Arabian Nights", "Ali Baba and the 40 Thieves" and Douglas Fairbanks "The Thiefs of Bagdad" have been adding to the world's imagination for decades. For more information and Official Rules, visit the SciFi2Reality Facebook and follow #SF2R #SF2Reality @SF2Reality on social media.
About the SF2Reality PRIZE Sponsors
Yatakhayaloon (translated: They are imagining) - UAE-based publisher was founded by Yasser Bahjatt and Ibraheem Abbas in an effort to help establish an Arabian Sci-Fi culture that would help the younger generation of Arabs to expand their horizons and imagination in hopes that it leads to growth in scientific development. Yatakhayaloon Sci-Fi Books have sold over 250,000 copies for 4 books globally, and are available on Amazon. Yasser is a computer engineer and the Ambassador of Singularity University to Saudi Arabia. Ibraheem Abbas is a Creative Director, who previously worked with Yasser at Procter and Gamble. Yasser and Ibraheem have done several TEDx Talks, including in Santa Monica, California. SF2Reality PRIZE Facebook http://bit.ly/sf2realityprize