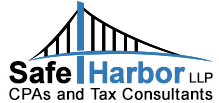 We help our clients at both ends of the life cycle.
San Francisco, CA (PRWEB) July 31, 2015
Safe Harbor LLP (http://www.safeharborcpa.com/), one of the San Francisco Bay Area's top-rated accounting firms, is proud to announce the public release of its August, 2015 San Francisco Tax Tips Bulletin. The accounting firm specializes in helping high net worth individuals with complex financial needs, such as planning for college or retirement.
"We help our clients at both ends of the life cycle," commented Chun Wong, CPA, managing partner at Safe Harbor LLP. "College planning issues hit many of our young San Francisco clients just starting out at San Francisco startups or technology companies, while retirement planning hits many of our older, more established clients. Both are covered in this month's lively tax bulletin."
To read the newsletter, please visit http://www.safeharborcpa.com/august-newsletter-2015/. There, one can read the bulletin in its entirety in Adobe PDF format. Interested parties are also urged to reach out to the firm for a free consultation on their individual accounting and tax issues, whether concerning college tuition planning, retirement, or other issues.
Highlights of the August San Francisco Tax Tips Bulleting
The San Francisco Bay Area is fortunate to be home to major educational institutions, such as the University of California, Berkeley, San Francisco State University, Stanford University and many others. Residents of San Francisco are highly motivated towards education, and it is not surprising that Safe Harbor has many clients who are concerned about the high cost of college education. Tips in this month's bulletin explain the various types of college loans, as well as strategies to minimize the bite of college tuition. On the other end of the spectrum, older San Francisco residents are facing retirement. Some own small businesses and can structure their retirement planning to be advantageous to them, as well as their employees. Again, interested parties are referred to the complete tax tips newsletter for a full discussion of retirement planning.
About Safe Harbor LLP – a Professional CPA Firm in San Francisco
Safe Harbor LLP is a CPA firm that specializes in accounting and tax services for individuals and businesses throughout the San Francisco Bay Area and greater California. Safe Harbor CPAs helps both individuals and businesses with tax preparation, IRS audit defense, and audited financial statements. The firm prides itself on friendly yet professional service and utilizes state-of-the-art Internet technology to provide quality customer service.
Safe Harbor CPA
http://www.safeharborcpa.com
Tel. 415.742.4249