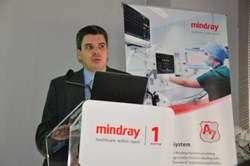 (PRWEB UK) 26 November 2013
The SFAR (Societé Francaise d'Anesthesia et de Réanimation) Congress is an important worldwide conference for French-speaking anaesthesiologists. This year, Mindray was a major sponsor of the meeting held at the Palais des Congrès in Paris from September 18th-21st. More than 5,500 anaesthesiologists and ICU-clinicians attend SFAR annually and Mindray France set up a high-technology interactive exhibition stand, which featured the new eye-catching A7 anaesthesia workstation and BeneView patient monitor IT solution.
During the meeting, Mindray's Patient Monitoring and Life Support (PMLS) Business Unit ran a French-speaking seminar for 100 attendees on the Mindray A7 workstation and the new '1 solution' integrated hospital platform. Mindray Africa team cooperated with Mindray France for this successful event. First of all, Mr. Christophe Papillon, general manager of Mindray France made a welcome speech and provided a background on the company. Professor Riad Mokretar-Kharroubi (Vice President of SAARSIU, and a leading Algerian anaesthesilogist) and A7 end-users Sébastien Delgoulet and Bruno Fermigier were invited to share their positive experience of using Mindray's anaesthesia workstation. Jean-Jacques Vincent, Marketing Manager from Mindray France then introduced Mindray's new 1 solution, as a way to optimise information management, integrate devices, improve cost efficiencies and streamline workflows within emergency, perioperative and critical care (ICU) units. The 1 solution system is also able to record comprehensive and continuous patient information throughout a patient's hospital stay.
Following the seminar, SFAR attendees and Mindray partners were invited to a Mindray Gala Dinner at the Eiffel Tower restaurant. The evening provided a good opportunity to build an academic platform, which can let the admirable anesthesiologists to discuss their clinical practice in a relaxed surroundings, the academic Gala Dinner ended the successful and informative congress perfectly.