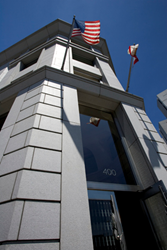 Image-X recognized the opportunity to create a system for the court that implemented the company's solution without requiring an additional middleman
San Francisco, CA (PRWEB) April 30, 2015
Image-X Enterprises announced today that it was able to create a court-run e-filing solution for San Francisco County, as an alternative to the File & ServeXpress system that has already been implemented. This solution will provide the public with multiple options for lawyers to file cases, so that they are able to comply with the now mandatory e-filing format.
With this solution, San Francisco County will become the first in California to provide an e-filing solution directly to the public. In order to accomplish this, they turned to Image-X Enterprises, with whom they had a previous relationship via Image-X's document imaging services. In addition, Image-X's electronic file management system had already been integrated into the existing File & ServeXpress system. Image-X recognized the opportunity to create a system for the court that implemented the company's solution without requiring an additional middleman, as an alternative to the already operating File & ServeXpress system.
Two months prior to the service's launch, the Court contacted Image-X in order to be able to provide multiple options for electronic filing, and Image-X was able to deliver. The company used their experience in document imaging and e-filing to set up a solution that allowed the Court to provide its own direct service, developing a portal that could then integrate with Image-X's previously utilized electronic file management system.
The change to electronic filing will cut down on wasted time spent on all sides of the case filing process, freeing up attorneys, paralegals, and court clerks for more important business. In addition, the Court will no longer have to waste physical storage space required to house the mass of paper created by traditional case filing. The switch is thus both environmentally friendly and efficient.
Image-X's President and CEO, Mohammed Shaikh, confirmed the special nature of the new electronic filing system, saying, "The San Francisco Superior Court is the first Court in California to offer its own e-filing portal which meets the requirements of California Rule of Court 2.253 (b)."
Image-X Enterprises is a digital certificate authority, and has 25 years of experience with secure document imaging and storage services and electronic filing solutions. They recently announced the re-branding of their multiple digital signature solutions as applications of the ESignIT system. Image-X is headquartered in Goleta, California and serves multiple counties in California and elsewhere, in various capacities.