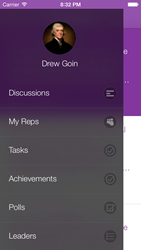 Dallas, Texas (PRWEB) October 22, 2014
Student Governmental Affairs Program (SGAP), the nonprofit arm of National Write Your Congressman, is launching a revolutionary, interactive app for U.S. government students this fall. The app will be the first of its kind and supplement SGAP's monthly, nonpartisan newsletter that is distributed to classrooms in all 50 states. The app enables SGAP students to connect with other students across the country as well as with their local representatives.
"We are excited to release the app for students and teachers enrolled in the SGAP program," said Randy Ford, president and co-founder of SGAP. "We believe the app will elevate the student experience by encouraging them to connect with other SGAP students, learn more about the political process and make a difference in their community."
The app features several unique and informational functions such as:
● Discussion Board: Connects students from across the country and engages them in conversations about political issues.
● My Reps: Allows students to learn about their current representatives and shows how the students' political views align.
● Tasks and Achievements: Students can earn points by completing activities such as writing a local representative or senator, taking a poll, joining a discussion or attending a local city council meeting. After completing a task, students can post status updates and pictures to social media and compare their scores with other students within their school and across the country on the leaderboard.
The SGAP app is an extremely effective learning tool for U.S. government teachers. Not only does it further immerse students in the civics discussion in the classroom using technology they are accustomed to, but it also incentivizes them to get involved in their community and in their government. The app also allows teachers to track their student's progress and reward them for becoming more civically minded if they so choose.
The SGAP app is now available for students and teachers enrolled in the SGAP program to download in the Apple App Store and Google Play Store.
Media demos are available upon request. Please contact amanda@minervaco.com.
For more information about SGAP and the app, please visit sgap.org.
About Student Governmental Affairs Program
SGAP, the nonprofit arm of National Write Your Congressman, provides high school government teachers a free, nonpartisan, factual, current events supplement for engaging students in the classroom on the application of bills in Congress. The materials, including a monthly newsletter, online presence and interactive app are designed to empower students to voice their opinions on current issues and become interested in what is happening in the world today. SGAP is currently used in schools in all 50 states reaching more than 200,000 students annually, with an estimated 3.1 million engaged since inception. For more information, visit us at sgap.org, like us on Facebook.com/sgapvoice or follow us on Twitter @SGAPvoice.
# # #