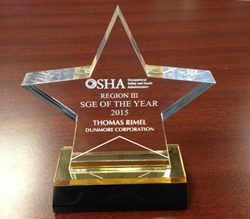 "DUNMORE believes that safety and health is not just good for our company, it's good for everybody," says Thomas Rimel. "We're willing to do what we can to help other companies keep people safe."
Bristol, PA (PRWEB) April 22, 2015
Thomas Rimel, Executive Vice President of DUNMORE Corporation, a leading film converter offering film metalizing, coating and laminating, was recognized as Special Government Employee (SGE) of the Year for Region III by the US Federal Government Agency Occupational Safety and Health Administration (OSHA) for his support of DUNMORE's safety programs. Rimel participated in five onsite evaluations and represented DUNMORE Corporation in OSHA's Best Practice Sharing Committee.
Thomas Rimel was recognized as "Region III SGE of the Year" for his dedication to OSHA's Voluntary Protection Program (VPP)
The SGE Program was established to allow industry employees to work alongside OSHA during VPP onsite evaluations. Not only does this innovative program benefit OSHA by supplementing its on-site evaluation teams, but it gives industry and government an opportunity to work together and share views and ideas.
Safety is a core value at DUNMORE and nothing new to Rimel, who helped the company achieve VPP Star Certification in 2010 (http://www.dunmore.com/osha-vpp.html). Since then, DUNMORE remains diligent in promoting worksite safety and health throughout the organization. Having associates that participate in safety programs outside the organization brings valuable perspective to DUNMORE's internal safety team. Rimel stays active in the VPP community by participating in as many site evaluations as his schedule permits, taking part in the VPP best practices sharing group and helping industry peers achieve their safety goals. "DUNMORE believes that safety and health is not just good for our company, it's good for everybody," says Rimel. "We're willing to do what we can to help other companies keep people safe."
Thomas Rimel has been with DUNMORE Corporation for over 15 years in a variety of positions including process engineering, plant management, sales, market development, and Mergers & Acquisitions. For the past seven years, Thomas has held a leadership position in Operations & Product Development for DUNMORE. Prior to his DUNMORE assignments, Rimel held various technical manufacturing and commercial positions at DuPont (NJ), International Paper (MD), and Adhesives Research (PA). Tom has a BS degree in Chemical Engineering from the University of MD in College Park, MD and an MBA from LaSalle University in Philadelphia, PA. Safety and health is an area of passion for Tom.
About DUNMORE
DUNMORE Corporation is a global supplier of engineered coated and laminated films and foils. DUNMORE offers film conversion services such as coating, metalizing and laminating along with contract film manufacturing. DUNMORE produces coated film, metallized film and laminating film substrates for the photovoltaic, graphic arts, packaging, aerospace, insulation, surfacing and fashion industries. DUNMORE is privately held, ISO 9001:2008 and OSHA VPP Star certified. For complete information on DUNMORE's products, services and industries served, please visit DUNMORE's website http://www.DUNMORE.com/.