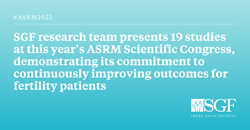 "Year after year, the SGF research team is proud to participate in the ASRM Scientific Congress and Expo and collaborate with reproductive scientists from the U.S. and around the world to improve outcomes for those facing infertility."
ANAHEIM, Calif. (PRWEB) October 24, 2022
Shady Grove Fertility's (SGF) physician-scientists will present 19 research abstracts during the 2022 American Society for Reproductive Medicine (ASRM) Scientific Congress & Expo as part of the practice's commitment to advancing knowledge and improving assisted reproductive technology (ART) treatment outcomes. This year's research by SGF presented at ASRM covered many important topics care including optimized outcomes for frozen embryo transfers, third-party reproduction, male fertility, and fertility preservation for patients with cancer, to name a few.
Hosted in Anaheim, California, the 78th ASRM Scientific Congress & Expo takes place October 22 through 26, 2022, and attracts more than 8,000 national and international physicians and professionals — distinguished academicians, clinicians, and scientific investigators in the field of human reproduction. The theme of the ASRM 2022 meeting is Genes, Gametes, and Genetics: What Will the Future Hold?
SGF is one of only a few private practice fertility centers in the country to employ a full-time dedicated research team, which operates under Director of Research, Kate Devine, M.D., a board certified reproductive endocrinologist who sees patients at SGF's Washington, D.C., K Street location. Dr. Devine serves as faculty to fellows at the National Institutes of Health (NIH) training to become reproductive endocrinologists and to residents at Georgetown School of Medicine training to be obstetrician/gynecologists. Dr. Devine also serves as the Executive Medical Director and Chief Research Officer at US Fertility, the largest network of physician-owned and physician-led fertility practices in the United States, of which SGF is a founding partner practice.
"Year after year, the SGF research team is proud to participate in the ASRM Scientific Congress and Expo and collaborate with reproductive scientists from the U.S. and around the world to improve outcomes for those facing infertility," shares Dr. Devine. "Our research efforts offer hope to those struggling to conceive and push us to continue providing innovative, evidence-based care to fertility patients."
As a premier IVF and fertility center of excellence, SGF demonstrates a sustained commitment to clinical research and clinical education. Many of the studies presented at the meeting this year resulted from collaborations between SGF and academic institutions. SGF physicians act as clinical instructors and research mentors to physicians in training from NIH, Georgetown University, Eastern Virginia Medical School, University of South Florida, and University of Colorado.
"SGF is proud to be training the next generation of physicians in reproductive medicine," shares Eric Widra, M.D., Chief Medical Officer, SGF. "Our valuable and unprecedented partnership with our four fellowship programs fuels our research initiatives and gives back to all fertility patients."
SGF's national retrospective cohort study of ovarian response and anti-Mullerian hormone (AMH) in cancer patients undergoing fertility preservation treatment compared to patients who are electively freezing their eggs has been selected as the Fertility Preservation Special Interest Group Prize Paper Prize Paper. The research, led by University of Colorado fellow Ivy Lersten, M.D., alongside her mentor, SGF Colorado physician Cassandra Roeca, M.D., found that the relationship between the number of eggs retrieved or cryopreserved and AMH did not differ for fertility preservation versus elective egg freezing groups. This research can provide reassurance for patients undergoing fertility preservation treatment following a cancer diagnosis.
"At SGF, we know the importance of innovative, evidence-based fertility care," shares Dr. Roeca. "With this new information, we can better counsel patients and reassure them that their cancer diagnosis does not have to mean the end of their family-building dreams."
In addition to oral and poster presentations, several SGF physicians and nurses hosted symposiums, interactive sessions, roundtable discussions, and post-graduate courses. Jerrine Morris, M.D., an SGF physician who joined the practice this fall, will lead a roundtable discussion, symposia, and session that all dive into bringing diversity and equity to reproductive healthcare.
To learn more about ongoing research being conducted at SGF, visit http://www.shadygrovefertility.com/research.
About Shady Grove Fertility (SGF)
SGF is a leading fertility and IVF center of excellence with more than 100,000 babies born from 30+ years of continuous innovation and patient-centered fertility care. With 50 locations, including the newest location in Raleigh, North Carolina, as well as throughout CO, FL, GA, MD, NY, PA, TX, VA, D.C., and Santiago, Chile, SGF offers patients in-person and virtual physician consults, delivers individualized care, accepts most insurance plans, and makes treatment affordable through innovative financial options, including 100% refund guarantees. SGF is among the founding partner practices of US Fertility, the largest physician-led partnership of top-tier fertility practices in the U.S. Call 1-888-761-1967 to schedule a new patient appointment or visit ShadyGroveFertility.com for more information.