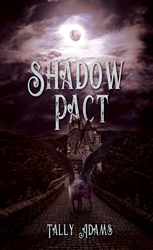 "The greatest underlying meaning in the series is a world that is all-inclusive and accepting of differences in others, even when those differences stand in direct opposition. There are ways of finding peace and common ground while still meeting the needs of the individuals."-Tally Adams
DALLAS (PRWEB) February 14, 2019
Author Tally Adams blends legendary creatures with historical facts to create a new, fantastical world in Shadow Pact, releasing nationwide today (Brown Books Publishing Group). Shadow Pact takes place in a dangerous world where, unbeknownst to most humans, werewolves and vampires are battling to become the ruling species. Shadow Pact is Book One of the Immortal Romance series.
"I've studied myths and legends for years with a sort of morbid fascination," says author Tally Adams. "Nothing else has ever held my attention like the dark truth behind common children's fairy tales or how very old practices and beliefs continue to influence our world, even to this day."
As the story opens, Amber has disappeared, and what begins as Emily's quest to find her sister ultimately leads to a course of events that will change the world forever, as she and her vampire-werewolf hybrid companions navigate the ancient rivalry between the two warring species. In discovering the truth about her own destiny, Emily's courage will be tested as she struggles to protect the mortal, human reality she holds dear.
Future books in the Immortal Romance series will focus on characters introduced to readers in Shadow Pact. Adams hints that the next book features a vampire named Paoli, introduced here, and his centuries-long story. Though the main characters may be fantastical creatures like vampires and werewolves, the central theme is very real, very now, and courses throughout the Immortal Romance series, weaving together each new volume.
"The greatest underlying meaning in the series is a world that is all-inclusive and accepting of differences in others, even when those differences stand in direct opposition. There are ways of finding peace and common ground while still meeting the needs of the individuals."
Shadow Pact is the introduction to a new and exciting fictional world. The story is action-packed, fast paced, and a fantastical thrill ride from start to finish. And the saga is only beginning.
For more information, please visit http://www.tallyadams.com