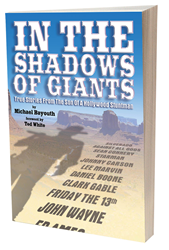 "These stories are part of Cinema pop culture—what happened behind-the-scenes. How many of us can say, we grew up in the shadows of giants?" - Michael Bayouth, Director, Artist, Author of "In the Shadows of Giants"
Hollywood, CA (PRWEB) December 16, 2014
"In The Shadows of Giants" is a fun and dysfunctional ride of Hollywood stuntman and movie star double Ted White's life from the Hatari movie set with John Wayne on the African Serengeti to the palimony trial of Lee Marvin in LA. "In the Shadows of Giants" combines humor and true-life stories of White's life as a stuntman, double for such wild characters as Jason from the "Friday the 13th" series, as well as husband and father. In this tell-all that is both biography and memoir, White's son and author, Michael Bayouth, a noted storyboard artist for big budget movies, packs this book with true, bizarre stories of both his father's life and his own.
The author revisits the time he sketched a deadly Mob criminal undercover at a posh Beverly Hills restaurant or when his mom caught on fire in the kitchen and White saved her life like it was all in a days work. Or his father parading stunt horses through the living room to settle a drunken bet. Bayouth shares these and other Hollywood insider stories, taking readers on set for thrilling tales from classic movies and sharing photos. On online sites dedicated to his father, his films and this book, Bayouth chats about these stories with readers and movie fans. Bayouth's social media campaign on Facebook and his website, "In The Shadows of Giants" are home to many stills from the book, video clips from some of his father's films.
"In the Shadows of Giants" is a rare insider view of what it was really like growing up in the rough, tough roundup world of a Hollywood movie family.
The book is available in both e-book and paperback here on Amazon.com and in Kindle format.
Bayouth currently lives in Santa Barbara, CA, and is available for interviews by contacting mike(at)bayouth(dot)com, or by calling (805) 804-2929, PST. Bayouth is also the published co-author of the coming-of-age novel set in the Marshall Islands, the site of US Nuclear blasts, titled "Nine Degrees North." An award-winning director and motion picture industry artist who has penned several screenplays, Bayouth conveys raw human emotion, drama and comedy in his inside experiences that are usually found in the movies.
Based in Santa Barbara, "Innovative Creative Content: What Makes You Different Connects Us All" is a Content Marketing Firm focusing on successful client branding and global marketing through targeted content and storytelling campaigns. For more information, visit their website at http://www.innovativecreative.co or contact them directly at email (at) innovativecreative.co.