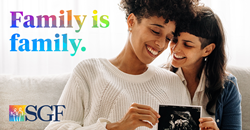 "We provide top-notch fertility care for our LGBTQ+ patients in a friendly, compassionate, and inclusive environment where our LGBTQ+ patients receive equal access to SGF's fertility services and financial offerings."
ROCKVILLE, Md. (PRWEB) June 07, 2022
In honor of Pride Month this June, Shady Grove Fertility (SGF) physicians will host free fertility events and live question-and-answer sessions for LGBTQ+ family-building information seekers in addition to attending and sponsoring Pride events throughout the country.
Selma Amrane, M.D., who sees patients at SGF's Towson, Maryland office, will host the LGBTQ+ Family-Building webinar on June 9 at noon ET. Dr. Amrane will share what to expect from SGF's LGBTQ+ family building services including:

Sperm, egg, and embryo donation;
Treatment options for same-sex female couples, including intrauterine insemination (IUI), in vitro fertilization (IVF), and reciprocal IVF;
Treatment options for same-sex male couples, including intended father treatment and donor egg treatment with gestational carrier;
Treatment options for transgender people;
Pre-transition fertility preservation for transgender people;
Legal considerations; and
Financial considerations and programs offered at SGF.
"At SGF, we believe everyone should be able to have the family of their dreams," shares Dr. Amrane. "We provide top-notch fertility care for our LGBTQ+ patients in a friendly, compassionate, and inclusive environment where our LGBTQ+ patients receive equal access to SGF's fertility services and financial offerings."
SGF physicians, staff, and patients will also be attending Pride events throughout the country to answer questions and work with LGBTQ+ individuals and couples to begin their family-building journeys. At each Pride event, there will be giveaways, patient information, and a chance to win a free fertility consultation.
SGF has been a leader in third-party reproduction (refers to the use of eggs, sperm, or embryos that have been donated by a third person, known as the donor), for nearly 30 years. LGBTQ+ patients who want to have biologically related children can do so through personalized fertility treatment plans at SGF. Many of SGF's treatment options for same-sex and transgender couples enable both partners to participate actively in the family-building process.
"After our journey, I had so many same-sex couples that were friends contacting me with questions to start their journey," shares SGF patient, Casey. "It's a big, scary unknown to many same-sex couples so I love sharing any knowledge and/or information we have. We are so thankful for this journey with SGF — for giving us equal access to services and being kind throughout the entire process."
SGF LGBTQ+ events and celebrations throughout June at a glance:
Follow SGF on Facebook and Instagram for the latest updates and events, including information on an Instagram Live for Pride Month.
For LGBTQ+ community members ready to start their family-building journey, contact the SGF New Patient Center at 1-888-761-1967 or complete a brief online request form to schedule a virtual or in-person consult with an SGF physician.
About Shady Grove Fertility (SGF)
SGF is a leading fertility and IVF center of excellence with more than 100,000 babies born from 30+ years of continuous innovation and patient-centered fertility care. With 46 locations, including new locations in Texas, as well as throughout CO, FL, GA, MD, NY, PA, TX, VA, D.C., and Santiago, Chile, SGF offers patients in-person and virtual physician consults, delivers individualized care, accepts most insurance plans, and makes treatment affordable through innovative financial options, including 100% refund guarantees. SGF is among the founding partner practices of US Fertility, the largest physician-led partnership of top-tier fertility practices in the U.S. Call 1-888-761-1967 to schedule a new patient appointment or visit ShadyGroveFertility.com for more information.