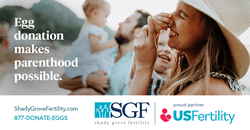 "This new, more robust, and technically advanced database provides a seamless, intuitive, user-designed experience that eases some of the complexities that intended parents face during the selection of an egg donor."
ROCKVILLE, Md. (PRWEB) March 30, 2022
Shady Grove Fertility (SGF), a premier fertility practice that is home to one of the largest fresh-cycle egg donor programs in the United States, announced today its collaboration with Egg Donor Connect (EDC) and launched a state-of-the-art online egg donor database that further enhances the recipient and egg donor matching experience.
"It's our continued mission to make parenthood a reality for as many people as possible," shares Michele Purcell, MHA, RN, Director, Specialty Programs at SGF. "This new, more robust, and technically advanced database provides a seamless, intuitive, user-designed experience that eases some of the complexities that intended parents face during the selection of an egg donor."
The matching experience for recipients has been enhanced to make reviewing and selecting egg donors easier than ever before. With the new database launch, intended parents at SGF will benefit from:

A mobile-friendly interface that allows for viewing egg donor profiles easily on their phone or tablets
An easy-to-use search function to help them find an egg donor
High-resolution egg donor photo galleries
Interactive egg donor questionnaire answers
Access to their egg donor treatment coordinator directly via the database
"Collaborating with SGF to launch their new egg donor database is a dream come true," shares Max Asciutto, President, Egg Donor Connect. "EDC view this launch as the beginning of a long-term commitment to improving the digital experience for egg donors and recipients throughout the US Fertility partnership. We value the opportunity to partner with US Fertility and Shady Grove Fertility in providing an improved experience for people looking to start or expand their families."
Thanks to the generosity of egg donors, more than 10,000 SGF patients have become parents. SGF is one of only a few centers in the nation that selects and prescreens its own egg donors prior to making them available on their egg donor database. SGF recruits and medically, psychologically, and genetically prescreens all prospective, ready-to-cycle egg donors prior to listing them on the egg donor database. Much more commonly, fertility centers rely on an agency to select donors, which adds significantly to the cost passed on to the intended parent(s), or allows recipients to match with an egg donor that is already matched with another recipient(s), causing a delay to cycle.
To learn more about infertility treatment options, including SGF's Shared Risk 100% Refund Program for donor egg, contact the SGF New Patient Center at 1-888-761-1967 or complete a brief online request form to schedule a virtual consultation with an SGF physician.
About Shady Grove Fertility (SGF)
SGF is a leading fertility and IVF center of excellence with more than 100,000 babies born and 5,000+ 5-star patient reviews. With 47 locations, including new locations in Colorado and Norfolk, VA, as well as throughout CO, FL, GA, MD, NY, PA, TX, VA, D.C., and Santiago, Chile, SGF offers patients virtual physician consults, delivers individualized care, accepts most insurance plans, and makes treatment affordable through innovative financial options, including 100% refund guarantees. More physicians refer their patients to SGF than any other center. SGF is among the founding partner practices of US Fertility, the largest physician-led partnership of top-tier fertility practices in the U.S. Call 1-888-761-1967 or visit ShadyGroveFertility.com.