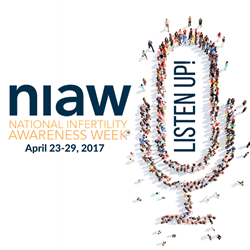 Rockville, MD (PRWEB) April 25, 2017
For the past 25 years, Shady Grove Fertility has been a leader in infertility awareness, community outreach, and educational initiatives. As a RESOLVE Visionary Partner, Shady Grove Fertility fully supports the "Listen Up!" movement and campaign message of National Infertility Awareness Week® (April 23 to 29, 2017). NIAW is a yearly initiative founded by RESOLVE to encourage people to act as their own infertility advocates and to educate legislators and the public about how infertility impacts one in eight couples within our community.
Since establishing a partnership with RESOLVE, Shady Grove Fertility has helped to raise not only awareness about infertility, but tens of thousands of dollars in support through annual events that advance RESOLVE's programming, such as support groups, educational content, public awareness initiatives, and advocacy to ensure that family building options are available to everyone.
The message behind this year's theme, "Listen Up!" is intended to empower the community to raise awareness to our lawmakers, insurance providers, and employers by educating them about the prevalence of infertility. Together, Shady Grove Fertility and RESOLVE are asking those affected by infertility to educate their community about the importance of being proactive about reproductive health and to know the guidelines for when it's time to see a fertility specialist.
In order to promote this year's NIAW theme, "Listen Up!" Shady Grove Fertility will provide in-office support, host physician-led webinars and in-person seminars, offer support groups, broadcast PSAs, launch an integrated social media campaign, publish educational blogs, and distribute informational emails in support of the 1 in 8 couples who are impacted by infertility.
NIAW is only one of the many ways throughout the year in which Shady Grove Fertility spreads awareness and supports the infertility community. On May 18, 2017, Shady Grove Fertility physicians and staff will let their voices be heard at Advocacy Day, a RESOLVE event, sponsored by Shady Grove Fertility, and in partnership with the American Society for Reproductive Medicine (ASRM), where the infertility community will come together to speak with members of Congress about topics that advance access to family building options and provide financial relief to those in need. This event is an opportunity to let voices be heard and connect with influencers in the fertility community.
With 1 in 8 couples needing the help of a fertility specialist in order to have a baby, it is important to understand the recommended guidelines for when to see a fertility specialist, which are based on the length of time having unprotected intercourse and the female's age. It is also important to understand how early fertility intervention offers the highest chances of success—something campaign supporters also are spreading the word about.
Shady Grove Fertility physician experts typically recommend for a couple in which the woman is younger than 35, has normal menstrual cycles, and no risk factors for infertility, to see a fertility specialist after 1 year of unprotected intercourse. When the woman is between the ages of 35 to 39, a fertility consultation (to make sure there are no infertility-causing conditions besides age) should occur after 6 months of unprotected intercourse, and after 3 months or immediately for women who are 40 and older.
There are other factors that warrant a fertility evaluation sooner, which can impact a woman's ability to conceive regardless of her age. Such factors include:

Irregular or absent menstrual cycle
Genetic disorders
Two or more miscarriages
History of sexually transmitted infections, or STIs (formerly known as sexually transmitted diseases, STDs)
Endometriosis
Polycystic ovary syndrome (PCOS)
Family history or previous diagnosis of premature menopause
Male factor infertility
Endocrine (hormonal) disorders such as thyroid disease
To stay connected with Shady Grove Fertility during NIAW, follow us on Facebook, Instagram, and Twitter, and visit our website http://www.shadygrovefertility.com.
About Shady Grove Fertility
Shady Grove Fertility is a leading fertility and IVF center of excellence offering patients individualized care, innovative financial options, and pregnancy rates among the highest of all national centers. 2016 commemorated 25 years of Shady Grove Fertility providing medical and service excellence to patients from all 50 states and 35 countries around the world, and over 40,000 babies born—more than any other center in the nation. Today, 39 physicians, supported by a highly specialized team of more than 700 Ph.D. scientists, geneticists, and staff care for patients in 19 full-service offices and six satellite sites throughout Maryland, Pennsylvania, Virginia, and Washington, D.C. Shady Grove Fertility physicians actively train residents and reproductive endocrinology fellows and invest in continuous clinical research and education to advance the field of reproductive medicine through numerous academic appointments and partnerships such as Georgetown Medical School, Walter Reed National Military Medical Center, the University of Maryland, and the National Institutes of Health. More than 1,700 physicians refer their patients to Shady Grove Fertility each year. For more information, call 1-888-761-1967 or visit ShadyGroveFertility.com.