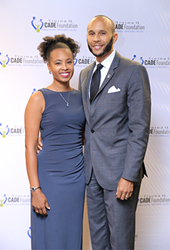 We believe that telling these stories is an essential component to providing education about infertility.
Rockville, MD (PRWEB) November 23, 2016
Shady Grove Fertility, the nation's largest fertility center and a longtime supporter and partner of the Tinina Q. Cade Foundation, proudly congratulates our patients from the Mid-Atlantic region who each received a Family Building Grant to support fertility treatment or domestic adoption. For over a decade Shady Grove Fertility has supported the Cade Foundation's mission to support couples struggling with infertility through financial assistance and educational resources. To date, Shady Grove Fertility has proudly raised over $600,000 for the Cade Foundation.
Patients from Shady Grove Fertility's 19 offices throughout the Mid-Atlantic region not only have the opportunity to apply for a Family Building Grant but also the Savannah Grant, a fund exclusively available to one Shady Grove Fertility patient who is pursuing in vitro fertilization (IVF) each year. Since the Savannah Grant was founded, in honor of Savannah Caroline Pereira, a SGF baby who tragically died in March 2010, the Cade Foundation has raised over $126,000. All Shady Grove Fertility patients are eligible to receive the Savannah Grant, which provides up to $10,000 in support for fertility treatment. To date the Savannah Grant has supported seven families, with five Savannah Grant babies born thus far and counting.
Earlier this month, four couples from Shady Grove Fertility received grants of up to $10,000 each at the Cade Foundation's 11th annual Night to Remember. The couples each submitted essays about their fertility journeys as part of the application process.
A longtime Cade Foundation Board Member, Shady Grove Fertility's Frank E. Chang, M.D. said, "Every year patients from throughout our community take time to share their stories with our friends and partners at the Tinina Q. Cade Foundation. We believe that telling these stories is an essential component to providing education about infertility. It's an honor to work with these brave patients and to support the work of the Cade Foundation."
As a center of excellence, Shady Grove Fertility proudly supports the Cade Foundation, as both organizations share a joint mission in helping others build the family of their dreams and both agree that education and information are two of the most empowering tools necessary for couples to overcome infertility.
Shady Grove Fertility is grateful to the recipients of this year's Cade grants for sharing their journeys.
About Shady Grove Fertility
Shady Grove Fertility is a leading fertility and IVF center of excellence offering patients individualized care, innovative financial options, and pregnancy rates among the highest of all national centers. 2016 commemorates 25 years of Shady Grove Fertility providing medical and service excellence to patients from all 50 states and 35 countries around the world, and celebrates over 40,000 babies born—more than any other center in the nation. Today, 34 reproductive endocrinologists, supported by a highly specialized team of 600 urologists, Ph.D. scientists, geneticists, and staff care for patients in 19 full-service offices and six satellite sites throughout Maryland, Pennsylvania, Virginia, and Washington, D.C. Shady Grove Fertility physicians actively train residents and reproductive endocrinology fellows and invest in continuous clinical research and education to advance the field of reproductive medicine through numerous academic appointments and partnerships such as Georgetown Medical School, Walter Reed National Military Medical Center, the University of Maryland, and the National Institutes of Health. More than 1,700 physicians refer their patients to Shady Grove Fertility each year. For more information, call 1-888-761-1967 or visit ShadyGroveFertility.com.