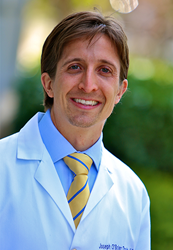 A woman's age at the time she freezes, her ovarian function, and the number of eggs she freezes are the three factors that influence egg freezing success.
Rockville, MD (PRWEB) April 06, 2017
Shady Grove Fertility's primary investigator of the largest study of egg-freezing pregnancy success rates in the U.S. to date, reproductive endocrinologist Joseph Doyle, M.D., recently explained in greater detail how physicians can predict future family size based on how many eggs a woman freezes along with her age at the time of freeze.
The findings of this study, which were originally published in the scientific journal, Fertility and Sterility, in 2016 are exceptionally valuable given that egg freezing is a "relatively new family building option, and the data regarding the success rates of frozen eggs from autologous patients (women who use their own eggs) leading to pregnancy is also new. Even more important, the study provided insight into the number of eggs to freeze to have one, two, or three children in the future using the previously frozen eggs," explains Dr. Doyle.
For patients who want to bring home a baby someday but are not building their family just yet, these findings can help them best prepare for the future.
"A woman's age at the time she freezes, her ovarian function, and the number of eggs she freezes are the three factors that influence egg freezing success," said Dr. Doyle.
"Based on our findings, women ages 30 to 34 who freeze 30 eggs have above a 90 percent chance of taking home one baby, a 70 percent chance of taking home two babies, and about a 40 percent chance of taking home three babies. Women ages 35 to 37 who freeze 30 eggs have just under a 90 percent chance of taking home one baby, about a 65 percent chance of taking home two babies, and just under a 40 percent chance of taking home three babies. Being able to give women who are contemplating freezing their eggs these probabilities, based on such extensive, unique research, is reassuring for both myself, as a clinician, but also for prospective patients," explains Dr. Doyle.
At Shady Grove Fertility, each physician discusses family building goals with each new patient. Whether an individual or couple is seeking fertility treatment in hopes of starting or growing their family immediately or a woman is looking to freeze her eggs for later use, a discussion of family building goals is step 1. The one caveat for a woman looking to freeze her eggs, is testing her current fertility comes before this conversation. This way, during the initial consultation, the physician can speak in more specific personalized terms regarding her probability, as her age and the results of her ovarian reserve testing will help determine the number of eggs she should freeze depending on family size.
"The results of the ovarian function test are crucial, as they not only provide guidelines for determining how many eggs a patient should freeze to ensure the best possible outcome, but they can also potentially reveal a decreased ovarian reserve, even sometimes in younger women. When we see a woman present with low ovarian reserve, it becomes necessary to proceed more rapidly as timing is critical," adds Dr. Doyle.
"We still recommend women with good ovarian reserve between the ages 30 to 37 freeze 15 to 20 mature eggs to have one baby," adds Doyle.
Fertility centers that perform more egg freezing and subsequent in-vitro fertilization (IVF) cycles that result in successful pregnancies have better, more reliable data to help patients make the best decisions for their family. In 2009, Shady Grove Fertility began using a flash-freezing process, called vitrification, for patients who were facing cancer treatments that could affect their future fertility. The practice has since performed well over a thousand egg freezing cycles, giving them substantial experience with the process. As leaders in the field of reproductive science, the practice continuous to be at the forefront of research and technology, which has allowed them to compile this data for pregnancy outcomes in women returning to use their frozen eggs.
About Shady Grove Fertility
Shady Grove Fertility is a leading fertility and IVF center of excellence offering patients individualized care, innovative financial options, and pregnancy rates among the highest of all national centers. 2016 commemorated 25 years of Shady Grove Fertility providing medical and service excellence to patients from all 50 states and 35 countries around the world, and over 40,000 babies born—more than any other center in the nation. Today, 39 physicians, supported by a highly specialized team of more than 700 Ph.D. scientists, geneticists, and staff care for patients in 19 full-service offices and six satellite sites throughout Maryland, Pennsylvania, Virginia, and Washington, D.C. Shady Grove Fertility physicians actively train residents and reproductive endocrinology fellows and invest in continuous clinical research and education to advance the field of reproductive medicine through numerous academic appointments and partnerships such as Georgetown Medical School, Walter Reed National Military Medical Center, the University of Maryland, and the National Institutes of Health. More than 1,700 physicians refer their patients to Shady Grove Fertility each year. For more information, call 1-888-761-1967 or visit ShadyGroveFertility.com.