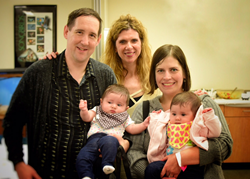 Family Day is such a special day for us. We are there to celebrate the perseverance, strength, and sheer grit we see in our patients.
Harrisburg, PA (PRWEB) October 07, 2016
Shady Grove Fertility hosted their inaugural Harrisburg, PA Family Day on Saturday, October 1st. Harrisburg region reproductive endocrinologists, Drs. Abraham K. Munabi, Melissa Esposito, and Lauren Roth and the Harrisburg team of Shady Grove Fertility hosted nearly 50 families for a day of fun and celebration at ZooAmerica.
Dr. Esposito added, "When we see our patients at their initial consultation, they are often frustrated, hopeless, and desperate for a child. We strive to not only use best medical practices to help them achieve their goal, but even more importantly, our team does this with constant messages of hope and encouragement. Taking care of our patients and helping them achieve their dreams of parenthood is a privilege. We have the best job!"
"I couldn't wait to show off my baby to my doctor and team who helped make it happen. They were my champions who never stopped encouraging me, supporting me, or letting me lose hope. The SGF team is definitely the finest there is, and we feel so blessed. To say that they've changed our lives is only half of it. They've given our lives new purpose and immeasurable joy," remarked a former SGF patient.
The Family Day event offered the opportunity for the families and physicians to take pictures with one another and express their mutual appreciation and gratitude. "Family Day is such a special day for us. We are there to celebrate the perseverance, strength, and sheer grit we see in our patients. That determination is what fuels our passion even further to help couples realize their dream. Our patients inspire us just as much as they say we inspire them. They are our "Reason to Believe," added Dr. Roth.
Shady Grove Fertility's 2016 'Reason to Believe' campaign commemorates 25 years and over 40,000 babies born, more than any other center in the nation. To commemorate this important milestone, Shady Grove Fertility launched a "Believe It's Possible" campaign earlier this year to build hope for the one in eight couples who are affected by infertility, and to serve as a reminder that there are now treatments available to help almost everyone conceive.
"Don't ever underestimate the power of hope, belief, and community. We all need a support network in order to overcome life's challenges. And infertility is no different. When you're in our care, you're supported by a world-class team of cheerleaders," said Dr. Munabi.
Shady Grove Fertility is encouraging its community in the Harrisburg region and all of its 26 locations throughout Maryland, Pennsylvania, Virginia, and Washington, D.C., to share their reasons to believe with others—whether that's a picture of their Shady Grove Fertility baby or something along their journey that has served as a source of inspiration—by posting to their favorite social community using the hashtag #BelieveItsPossible.
About Shady Grove Fertility
Shady Grove Fertility is a leading fertility and IVF center of excellence offering patients individualized care, innovative financial options, and pregnancy rates among the highest of all national centers. 2016 commemorates 25 years of Shady Grove Fertility providing medical and service excellence to patients from all 50 states and 35 countries around the world, and celebrates over 40,000 babies born—more than any other center in the nation. Today, 34 reproductive endocrinologists, supported by a highly specialized team of 600 urologists, Ph.D. scientists, geneticists, and staff care for patients in 19 full-service offices and six satellite sites throughout Maryland, Pennsylvania, Virginia, and Washington, D.C. Shady Grove Fertility physicians actively train residents and reproductive endocrinology fellows and invest in continuous clinical research and education to advance the field of reproductive medicine through numerous academic appointments and partnerships such as Georgetown Medical School, Walter Reed National Military Medical Center, the University of Maryland, and the National Institutes of Health. More than 1,700 physicians refer their patients to Shady Grove Fertility each year. For more information, call 1-888-761-1967 or visit https://www.shadygrovefertility.com.