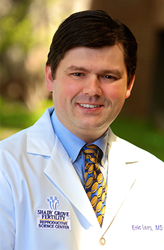 When it comes to conception, knowledge is power. And a semen analysis can offer a quick and easy snapshot of sperm health, providing knowledge that can be crucial to starting a family.
Rockville, MD (PRWEB) April 12, 2017
Shady Grove Fertility, the largest fertility center in the nation with 39 physicians, 25 full service locations, three state-of-the art laboratories, and a baby born every 3 hours, revealed findings from a recent survey that 44 percent of couples were not tested simultaneously for infertility at either their OB/GYN's office or at another fertility center.
The reason this proves to be problematic is because, without testing the male partner at the same time as the female partner, given that 40 to 50 percent of infertility cases are attributed to male factor infertility, an early semen analysis can often accurately pinpoint the problem. In the absence of an early semen analysis, some patients will initiate a low-tech treatment such as timed intercourse with Clomid under the care of their OB/GYN or primary care physician—only to have an unsuccessful result—and a diagnosis would have been revealed after a simple semen analysis. Had that couple started with an early semen analysis they could have saved precious time and expense with other treatment strategies.
"Before a patient begins treatment, it is critical for us as physicians to identify any potential obstacles to achieving a pregnancy, which is based on the results of simple male and female prescreening tests. Once we establish a diagnosis, we will design a custom treatment plan that best suits the patient's individual needs, which is dependent on age, diagnosis, the duration of infertility, and any previous treatments," says Eric Levens, M.D., of Shady Grove Fertility's Annandale, VA office.
The specialists at Shady Grove Fertility are committed to making the diagnostic process as streamlined, efficient, and personalized as possible to ensure patients receive the best care. The initial infertility work-up is designed to answer four key questions: Is the woman ovulating? Are the woman's Fallopian tubes open? Is the woman's uterus receptive to implantation? Are the man's sperm normal in number and function?
A semen analysis is a non-invasive, low-cost test that assesses a patient's sperm count, motility (movement), and morphology (shape). Because a semen analysis is such a simple test that yields a substantial amount of pertinent information, Shady Grove Fertility highly recommends that couples have this test as part of their primary fertility work-up.
"When it comes to conception, knowledge is power. And a semen analysis can offer a quick and easy snapshot of sperm health, providing knowledge that can be crucial to starting a family," adds Dr. Levens.
The bottom line, if a male has been having unprotected sex for 1 year with a female partner under 35, or for 6 months with a female partner over 35 and she hasn't yet conceived, it is time to see a fertility specialist for testing of both the male and female. "If there is any reason to suspect an issue with a man's sperm, such as testicular trauma, erectile dysfunction, or problems ejaculating, I recommend skipping the wait, regardless of the partner's age or how long they've been trying, and get tested immediately," says Dr. Levens.
"If ever there is reluctance about having a semen analysis, I remind my patients a semen analysis is an inexpensive test that may avoid unnecessary costs in procedures in the future to achieve the ultimate goal of becoming a parent. For those concerned about collecting, it can be collected in the privacy of one's home and dropped off at any of our full service locations," adds Dr. Levens.
About Shady Grove Fertility
Shady Grove Fertility is a leading fertility and IVF center of excellence offering patients individualized care, innovative financial options, and pregnancy rates among the highest of all national centers. 2016 commemorated 25 years of Shady Grove Fertility providing medical and service excellence to patients from all 50 states and 35 countries around the world, and over 40,000 babies born—more than any other center in the nation. Today, 39 physicians, supported by a highly specialized team of more than 700 Ph.D. scientists, geneticists, and staff care for patients in 19 full-service offices and six satellite sites throughout Maryland, Pennsylvania, Virginia, and Washington, D.C. Shady Grove Fertility physicians actively train residents and reproductive endocrinology fellows and invest in continuous clinical research and education to advance the field of reproductive medicine through numerous academic appointments and partnerships such as Georgetown Medical School, Walter Reed National Military Medical Center, the University of Maryland, and the National Institutes of Health. More than 1,700 physicians refer their patients to Shady Grove Fertility each year. For more information, call 1-888-761-1967 or visit ShadyGroveFertility.com.