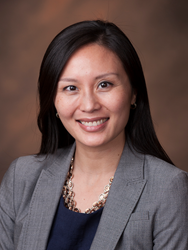 I am honored to join such a reputable and respected practice as Shady Grove Fertility.
Rockville, MD (PRWEB) January 23, 2017
Shady Grove Fertility, a respected leader in the fertility community, announced the addition of board certified reproductive endocrinologist Kara D. Nguyen, M.D., MPH to the practice. Dr. Nguyen has been committed to serving the reproductive needs of the central PA region for over 4 years and will be joining the respected physician team at Shady Grove Fertility's Reading, PA location on March 1, 2017.
"I am honored to join such a reputable and respected practice as Shady Grove Fertility," said Dr. Nguyen. "Their unrivaled success rates show the practice's commitment to staying innovative and cutting-edge, while holding true to their core mission of always doing what's best for the patient and never compromising on their values and beliefs," Nguyen adds.
Dr. Nguyen is one of only a few physicians who are triple-board certified in obstetrics and gynecology, reproductive endocrinology and infertility, and medical genetics. She earned her medical degree from Jefferson Medical College and her Master's in Public Health from John Hopkins University. She completed her residency in obstetrics and gynecology at Christiana Care Hospital in Delaware and her subspecialty training in medical genetics at the National Institutes of Health.
At the Harvard Medical School teaching hospital, Beth Israel Deaconess Medical Center, Dr. Nguyen was the first OB/GYN to be accepted into the competitive Clinical Investigator Training Program, where her research in stem cells was funded by grants from the New England Fertility Society, National Institutes of Health, and Harvard Stem Cell Institute.
Dr. Nguyen's professional areas of expertise include preimplantation genetic diagnosis (PGD), polycystic ovary syndrome (PCOS), in vitro fertilization (IVF), donor egg treatment, oncofertility and fertility preservation, and patient-centered LGBT fertility treatments. Her signature approach to patient care has earned her the Patients' Choice and Compassionate Doctor awards on Vitals.com and Honor Roll on Healthgrades.com.
Dr. Nguyen will provide patients in central PA with a full range of state-of-the-art diagnostic and treatment options for female and male infertility, as well as fertility preservation and elective egg freezing. She will begin seeing patients in the Shady Grove Fertility Reading, PA office beginning March 1, 2017. Appointment scheduling for Dr. Nguyen will open on February 17, 2017. To schedule an appointment with Dr. Nguyen or any other SGF physician, call 1-877-761-1967.
About Shady Grove Fertility
Shady Grove Fertility is a leading fertility and IVF center of excellence offering patients individualized care, innovative financial options, and pregnancy rates among the highest of all national centers. 2016 commemorated 25 years of Shady Grove Fertility providing medical and service excellence to patients from all 50 states and 35 countries around the world, and over 40,000 babies born—more than any other center in the nation. Today, 39 physicians, supported by a highly specialized team of more than 700 Ph.D. scientists, geneticists, and staff care for patients in 19 full-service offices and six satellite sites throughout Maryland, Pennsylvania, Virginia, and Washington, D.C. Shady Grove Fertility physicians actively train residents and reproductive endocrinology fellows and invest in continuous clinical research and education to advance the field of reproductive medicine through numerous academic appointments and partnerships such as Georgetown Medical School, Walter Reed National Military Medical Center, the University of Maryland, and the National Institutes of Health. More than 1,700 physicians refer their patients to Shady Grove Fertility each year. For more information, call 1-888-761-1967 or visit ShadyGroveFertility.com.