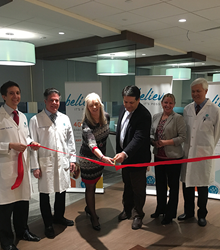 The expansion of our Rockville, MD center and lab represents our rapid growth in the region and in the U.S. as a leading fertility practice, and furthers our commitment to provide best in class fertility care to our patients and the community.
Rockville, MD (PRWEB) December 23, 2016
Shady Grove Fertility, the largest fertility center in the nation with more than 40,000 babies born, just opened a brand new, state-of-the-art center and laboratory in its headquarters location, Rockville, MD. The new expansive space totals nearly 51,155 square feet across two floors, and is home to physician offices for patient consultations as well as dedicated endocrine and andrology laboratories for procedures such as intrauterine insemination (IUI), sperm preparation, and patient monitoring. The fifth floor space is home to a massive state-of-the-art embryology laboratory—the largest freestanding in vitro fertilization (IVF) lab in the United States. The 5th floor also includes a spacious ambulatory surgery center with 12 recovery bays, six embryo transfer rooms, and two operating rooms.
"The expansion of our Rockville, MD center and lab represents our rapid growth in the region and in the U.S. as a leading fertility practice, and furthers our commitment to provide best in class fertility care to our patients and the community," says Chief Executive Officer of Shady Grove Fertility, Mark Segal.
The Rockville office laboratory is accredited by the Joint Commission and the College of American Pathologists (CAP) operating under the distinct leadership of nationally and internationally known Jim Graham, laboratories director, and Michael J. Tucker, BSc Comb Hons, Ph.D., FIBiol, HCLD, director of Shady Grove Fertility's IVF and Embryology Laboratories.
The embryology laboratory is equipped with the very latest technology including anti-shake tables, special ventilation, and inverted microscopes to evaluate embryo growth, development, and quality, to name a few. The highly skilled embryologists are specially trained to carefully handle patients' sperm, eggs, and embryos and verify the identification of each specimen to ensure quality control and quality assurance, which is of utmost importance to the practice.
"The expansion of our new state-of-the-art clinical facility is attributed to the remarkable advancements we've made in our embryology lab and treatment protocols. Because we embody a culture of continuous innovation, we are always striving to stay at the cutting-edge of reproductive science to improve outcomes for patients and help more couples conceive," says Graham.
In 2015, Shady Grove Fertility's flagship Rockville, MD laboratory alone performed over 4,100 IVF and nearly 2,050 frozen embryo transfers (FET) treatment cycles—the highest number of IVF Program cycles ever performed at the practice in a single year. This is in addition to the 1,500 IVF cycles and nearly 700 FET cycles performed at the center's two other state-of-the-art laboratories in Chesterbrook, PA and Towson, MD.
"One of the things that our patients have come to rely on throughout our 25 years of continuous care is truly personalized care, and understanding the unique needs, preferences, and circumstances of each individual. That's why 96 percent of our patients tell us they would recommend Shady Grove Fertility to a friend or family member. This recommendation is something upon which we place high value given the sensitive nature of infertility," says Robert J. Stillman, M.D. of Shady Grove Fertility's Rockville, MD location.
A ribbon-cutting ceremony commemorated the grand opening of the center and laboratory earlier today to formally welcome patients and team members.
John Stull, Senior Project Manager with DPR Construction—with whom Shady Grove Fertility contracted in December 2015—remarked, "I am truly impressed that the SGF team was able to flawlessly orchestrate a move as massive as what happened today. It just doesn't happen, ever, that 300 people move in one day and are open and accepting patients without skipping a beat the next. Everyone had a purpose and knew exactly what they were supposed to do. It was teamwork at its finest. I've worked with dozens of healthcare organizations during building, rebuilding, and moves and I've never seen anything quite like this before. I feel privileged to be a part of it."
To learn more about Shady Grove Fertility's Rockville location visit: https://www.shadygrovefertility.com/locations/maryland/rockville
About Shady Grove Fertility
Shady Grove Fertility is a leading fertility and IVF center of excellence offering patients individualized care, innovative financial options, and pregnancy rates among the highest of all national centers. 2016 commemorates 25 years of Shady Grove Fertility providing medical and service excellence to patients from all 50 states and 35 countries around the world, and celebrates over 40,000 babies born—more than any other center in the nation. Today, 35 physicians, supported by a highly specialized team of more than 700 Ph.D. scientists, geneticists, and staff care for patients in 19 full-service offices and six satellite sites throughout Maryland, Pennsylvania, Virginia, and Washington, D.C. Shady Grove Fertility physicians actively train residents and reproductive endocrinology fellows and invest in continuous clinical research and education to advance the field of reproductive medicine through numerous academic appointments and partnerships such as Georgetown Medical School, Walter Reed National Military Medical Center, the University of Maryland, and the National Institutes of Health. More than 1,700 physicians refer their patients to Shady Grove Fertility each year. For more information, call 1-888-761-1967 or visit ShadyGroveFertility.com.