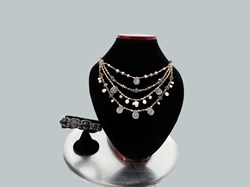 The gifted pieces are casual yet luxurious and will appeal to both women and men, whether their taste is edgy or more traditional.
Tucson, Arizona (PRWEB) January 07, 2014
ShadyLady (http://www.shadyladychic.com) of Tucson, Arizona is poised to rock the Golden Globes as its Cascading Pyrite, Druzy & Pearl Gemstone Necklace and Diamond Pavé & Onyx Woven Leather Cuff are showcased on display and its Bold and Edgy Amber Tiger Eye Unisex Bracelet and Pearl and Leather Bracelets are gifted to celebrities stopping by The Artisan Group® exhibit at GBK's Luxury Celebrity Gift Lounge in Honor of the 2014 Golden Globes Nominees and Presenters. The Gift Lounge takes place January 10-11, 2014 at an exclusive location in Beverly Hills, California.
ShadyLady is a collection of on-trend women's and men's jewelry from designer Alexis Loschiavo. History, fashion and nature—against the backdrop of her Mediterranean heritage—provide Alexis inspiration. The resulting chic, timeless jewelry designs exhibit a youthful, of-the-moment sensibility that transitions easily from urban edge to resort ease. Her work is like a boutique-resort spa's guilty pleasure.
"I'm honored to be able to participate in this very special pre-Golden Globes gift lounge," remarked Alexis. "I've assembled the best of my designs for the occasion. The gifted pieces are casual yet luxurious and will appeal to both women and men, whether their taste is edgy or more traditional."
Versions of the Bold and Edgy Amber Tiger Eye Unisex Bracelet and the Pearl and Leather Bracelets are available to order at shadyladychic.com.
Alexis creates her one-of-a-kind and limited edition pieces using hands-on techniques like pearl-knotting and macramé to showcase freshwater pearls, semi-precious and natural gemstones and Swarovski Crystals and Elements. She is committed to practicing 'greensmanship' and utilizes responsibly-sourced materials whenever possible.
In 2013, Alexis brought her jewelry designs to GBK's Gift Lounges for the 2013 Primetime Emmys and the 2013 Oscars. As part of The Artisan Group's Stylist Gift Bag initiative, she has also presented her jewelry for consideration of use to the wardrobe stylists for the popular television show "Parenthood" and the upcoming movie thriller "Hidden in the Woods."
In 2014, ShadyLady will launch its latest jewelry collection at a boutique in Scottsdale, marking the first time the line has been available for purchase in Arizona brick-and-mortar stores. In addition, she has been busy creating custom wedding jewelry for clients in New York and Arizona and will have some of these pieces published in a popular bridal magazine in July 2014. Her international client base is growing rapidly, a trend she encourages by offering complimentary worldwide shipping.
Alexis is a student at the University of Arizona, where she is majoring in Retailing and Consumer Science with a double minor in Business and Spanish. She has volunteered with the Urban Land Institute Young Leader Group for the United Way Days of Caring Volunteer Event at St. Mark's, where the group built a children's garden bed and worked to clean up the play area. She has also donated jewelry to several local fundraising organizations, including the Cystic Fibrosis Foundation (Arizona Chapter) and the Tucson Hispanic Chamber of Commerce.
To learn more about ShadyLady or its participation in The Artisan Group's celebrity gifting initiatives, visit shadyladychic.com or contact the Alexis Loschiavo by email. Also, follow ShadyLady on Facebook (shadyladychic), Twitter (@shadyladychic) and Instagram (alexisll).
ABOUT SHADYLADY
ShadyLady (http://www.shadyladychic.com) was founded in 2012 by sole proprietor Alexis Loschiavo, a resident of Tucson, Arizona. Alexis specializes in creating one-of-a-kind, top quality fashion jewelry for women and men, including leather and pearl leather macramé wrap bracelets, necklaces, natural stone earrings and men's bracelets.
Alexis Loschiavo is a university business student by day and jewelry designer by night. Alexis currently resides in Arizona, speaks two languages, holds dual citizenship in Mexico and the United States, and is half Lebanese and half Italian. She is currently completing her degree at the University of Arizona, and hopes to graduate with a Bachelor of Science degree in Retailing & Consumer Sciences and a double minor in Business and Spanish.
Alexis is a proud member of The Artisan Group®.