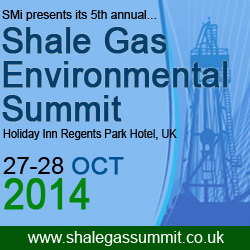 Oil and gas companies are keen to go ahead but communities targeted for fracking are worried about earthquakes and groundwater contamination. - BSA West Midlands Branch, 2014
London, Southwark (PRWEB UK) 21 September 2014
Is fracking for shale gas the answer to the looming energy crisis or is it a disaster waiting to happen? Opinions are split. Oil and gas companies are keen to go ahead but communities targeted for fracking are worried about earthquakes and groundwater contamination. Robert Ward, Director of Groundwater Science, British Geological Survey will be speaking at this year's summit to explore groundwater monitoring and protection at this year's summit. Highlights from the presentation include:
(Source: British Science Association, West Midlands prestige lecture: Fracking, 2014)

The potential contaminants of concern and their management
Understanding how shale gas and related contaminants could leak
How to find out if shale gas is leaking? The importance of a good baseline
Protecting groundwater: the relationship between shale and aquifers
This year's Shale Gas Environmental Summit will provide the ideal platform for various industry representatives including operators, environmentalists, campaigners, NGOs, academics and researchers to come together and discuss the environmental aspects of shale gas extraction and production to discuss and debate the current developments of shale gas. Other speakers will include the The National Physical Laboratory, Plexus Energy, Water UK, Bath and North East Somerset Council, No Hot Air, UK Onshore Operations Group, MWH Global plus many more.
2014 Key Discussions

How to monitor and enforce the regulations?
Does the UK need more rigid laws for fracking?
What are the resulting impacts on climate change and wildlife?
What are the impacts on water?
There is currently a £300 reduced rate through online registrations, using the following code: SMI3A7A.
---END---
For more information please visit:
5th annual Shale Gas Environmental Summit
27-38 October, 2014
Holiday Inn Regents Park Hotel, London, UK
http://www.shalegassummit.co.uk
About SMi Group:
Established since 1993, the SMi Group is a global event-production company that specializes in Business-to-Business Conferences, Workshops, Masterclasses, and online Communities. SMi Group creates and delivers events in the Defence, Security, Energy, Utilities, Finance, and Pharmaceutical industries.
SMi Group has access to the world's most forward thinking opinion leaders and visionaries, allowing communities to Learn, Engage, Share, and Network together. SMi Group hold events in over 30 major cities throughout the world, including London, Paris, and Singapore, and to date, have welcomed over 200,000 participants from 80 countries.
More information can be found at http://www.smi-online.co.uk.