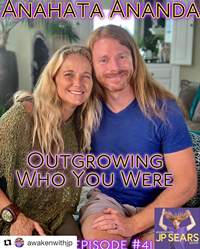 Every decision you make is transforming your life
SEDONA, Ariz. (PRWEB) August 26, 2019
Anahata Ananda, Shamanic Healer and founder of Shamangelic Healing in Sedona, Arizona, was invited to speak on the Awaken with JP podcast with host JP Sears. The topic she brought her expertise to was that of "Outgrowing Who You Were", on episode number 41 of the show. She shares how self-re-invention truly looks from the variety of perspectives along the way of growth and progress. "Awakening from the Dark Night of the Soul" is a calling you just can't ignore," states Anahata. They discuss the variety of traditional approaches one seeks out during this period in their live versus the Shamanic healing modalities she found resonated best for her. "Every decision you make is transforming your life, one step at a time," she adds.
Based on over two decades of experience navigating the paths available to support changing her life, Anahata now dedicates her time supporting others who are feeling the desire to take a step in a new direction. She facilitates the Sedona Empowerment and Awakening Weekend to teach people the tools they can apply in their lives to manifest the life of their dreams. The next one takes place October 3-6, 2019 with registration closing soon. She points out the importance of trusting the process of change and reminds people to follow their intuition. "Accessing our inner-knowing and trusting its guidance is a very important skill to use, especially during times of change," shares Anahata.
During the interview, Sears shares childhood memories of the results of not being able to fully follow what he was called to be doing and seconds Anahata's advice to be open to trusting the journey one finds themselves on. They discuss the quality of stepping into a new life and building a strong foundation from authenticity. There are times when the wake up calls are out of desperation and not inspiration and they look at each of these in depth. They both agree that learning how to stay true to oneself, especially during times of turmoil, is a necessary skill to develop for the strength needed to move forward during a big change in life-path. Anahata provides a variety of online courses to help people learn these practices.
Anahata and Sears are not afraid to shine a light on those situations where there may be times one has to barter with listening to their intuition for the sake of survival. They acknowledge these decisions are not easy to make and the results from doing so are best addressed when it is safe to do. Ignoring the emotions stored from such circumstances have consequences that show up in other areas of life. Anahata stresses the importance of getting to the root cause of negative patterns in order to move forward and feel fulfilled. She offers in-person healing sessions to address core issues in order to release trapped emotions, cultivate inner strength and practices which support a new direction.
Sears was invited to continue the conversation and share his insights on Anahata's Shamangelic Healing Podcast, episode 16, "Aligning With Your Authentic Life Purpose". The pair lay out the how-to of finding one's own authentic path and the liberating process of individuation from societal expectations. Sears shares the value of humor as the best medicine during challenging times and how to integrate playfulness back into life. They discuss evolving the old paradigm of stress, hustle and external validation when growing into a new version of ones best possible self. Calming and connective meditation techniques are what keep both Sears and Anahata centered and focused. She offers an online meditation course to teach others simple, quick, techniques to incorporate into their busy lives to gain clarity, guidance and relief from stress.
Anahata Ananda has trained extensively with gifted shamans, energy healers and spiritual teachers from around the world to artfully integrate the fields of spirituality, energy healing, self-empowerment and shamanic teachings. Her client-base spans the globe with individuals from all walks of life who are seeking to heal and awaken to their fullest potential. Anahata blends the compassion and tenderness of an Angel and the wisdom and strength of a Shaman to guide profound journeys of core healing and spiritual awakening. As a Certified High-Performance Coach, Shamanic Healer and Soul Guide, Anahata has guided thousands of individuals across the globe through core life shifts, helping them to turn their life around and create the life of their dreams. She is the host of the internationally acclaimed Shamangelic Healing Podcast which is designed as a platform for sharing deep authentic conversations about REAL LIFE issues. She offers deep healing through in-person sessions in Sedona, Arizona and supportive online courses for self-paced, at home learning.
https://shamangelichealing.com