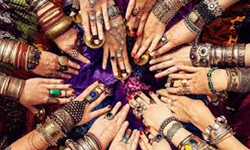 When empowered women unite, magic happens.
Sedona, Arizona (PRWEB) April 20, 2017
Shamanic healer and teacher Anahata Ananda of Shamangelic Healing Center, Sedona, Arizona's Premier Center for Shamanic Healing and Spiritual Awakening, is proud to announce that she will be a featured presenter on the Ambitious Woman's Global Telesummit, starting April 21, 2017.
Anahata joins self-mastery coach Lianne Grove, who has brought together more than 20 outstanding experts and ambitious women who will share their secrets, strategies and techniques to be able to "do it all" while still thriving and prospering in healthy and balanced relationships.
While the telesummit is designed to help all ambitious women balance their lives in order to derive the best benefits from living a supercharged life while avoiding its pitfalls such as burnout or self-doubt, it is especially useful for entrepreneurs, coaches, authors and any other woman who finds herself feeling overwhelmed.
"Sometimes, even the most ambitious, highly capable and success oriented woman can be prone to feelings of overwhelm or exhaustion from trying to manage all the competing demands and different directions she finds herself being pulled in during the course of a day," says spiritual counselor and trainer Anahata Ananda.
This global complimentary online video summit will run from April 21 through May 2, 2017. Anahata will share her own insights, strategies and secrets about how ambitious women can overcome any limiting beliefs that might be keeping them stuck in stressful patterns, provides tips for how they can effectively step into their personal power, and offers steps they can immediately take to increase their confidence as ambitious women.
Anahata is also available for private counseling by phone or in person. In addition to personal coaching and spiritual counseling Anahata offers group retreats, group workshops, sacred land journeys, Shamangelic Breathwork ceremonies and more at Shamangelic Healing Center in Sedona, Arizona.
Private Healing Sessions with Anahata are also available at the Center where Anahata provides personal sessions in a safe and loving space for deep healing and spiritual awakening. The Center also offers private retreats where visitors can choose from retreat packages such as the Relationship Health Retreat that provides participants the tools to heal and improve their relationships.
Whether visitors are seeking a Tailored Sedona Retreat of Transformational Healing and Spiritual Awakening, a Sacred Land Journey or a Weekend Intensive for Empowerment & Awakening, Shamangelic Healing provides profoundly empowering experiences. Shamangelic also offers a full complement of Shamanic Healing sessions, Shamanic Retreats, Sacred Land Journeys, as well as a full complement of training courses in energy healing and Shamanic teachings.
Shamanic Healer and Spiritual Counselor, Anahata Ananda, has trained extensively with gifted shamans, energy healers and spiritual teachers from around the world in order to artfully integrate the fields of spirituality, energy healing, self-empowerment and shamanic teachings. Her client-base spans the globe with individuals from all walks of life who are seeking to heal and awaken to their fullest potential.
The Shamangelic Healing Center is based in Sedona, Arizona. It is nestled beneath Thunder Mountain, with 360 degrees of breathtaking views and within walking distance to a medicine wheel and healing vortexes, making it the perfect setting for healing and expansion.
Inside, the retreat center's calm and relaxed environment helps to engage all of the senses, making it easy to settle into a session. Clients seeking Spiritual awakening, transformational healing services, counseling or training courses may choose from a wide range of options that can be tailored for the ultimate personal experience.
Shamangelic also offers the powerful Shamanic Soul Retreat for those who are ready to deepen their connections to the land. Retreats offer a powerful resource for anyone who wants to manage stress, expand their consciousness and deepen their self-development and spiritual awakening.
For those who prefer in-person private counseling with Anahata or would like to visit Sedona, Anahata also offers personally tailored Spiritual Retreats, Sacred Land Journeys, Vortex Energy Tours and other courses in personal empowerment and spiritual awakening, all among the Red Rocks.
For more information on the Ambitious Woman's Live Online Telesummit visit TheAmbitiousWomanLive.com
For detailed descriptions and a calendar of all training courses, retreats and spiritual awakening services offered by Anahata of Shamangelic Healing Center visit http://shamangelichealing.com.