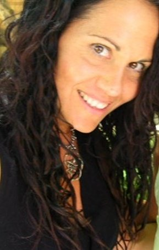 I have been awakened at every level of my being–mind, body and spirit. Thank you for the biggest transformation of my life.
Sedona, Arizona (PRWEB) March 30, 2017
Shamanic healer and teacher Anahata Ananda of Shamangelic Healing Center, Sedona, Arizona's Premier Center for Shamanic Healing and Spiritual Awakening, is proud to offer her Empowered Leadership Workshop as featured presenter at the Return to Eden Hot Springs Retreat April 26-30, 2017.
"It is time to lead with integrity, authenticity and passion and to dissolve fears, limitations and doubts," says Anahata. The healing waters and vortex energies of the sacred land offers visitors to the hot springs and retreat center a relaxing and soul-rejuvenating experience in this remote part of Arizona.
Return to Eden Hot Springs Retreat is a rustic campground and energy healing center on ancient Apache land is considered to be an energy vortex, revered by many as a sacred land for holding ceremony. The retreat blends music, inspirational talks and healing services, in a location where participants can relax and enjoy its healing waters.
Through her workshop and shamanic journeying sessions, shamanic healer and workshop facilitator Anahata guides participants to reclaim their power and shine their personal light. In this inspiring workshop Anahata will address practical as well as spiritual issues such as self sabotage, emotional obstacles to personal effectiveness and growth, as well as practices for overcoming them, along with guidance about next steps for cultivating empowered leadership.
Anahata is also available for private and group retreats, offering group workshops, sacred vortex land journeys, shamangelic breathwork ceremonies and more at Shamangelic Healing Center in Sedona, Arizona.
Whether visitors are seeking a soulful Sacred Journey to Peru or a Tailored Sedona Retreat of Transformational Healing and Spiritual Awakening, Shamangelic Retreats provides profoundly empowering experiences. Shamangelic also offers a full complement of Shamanic Healing sessions, Shamanic retreats, Sacred Land Journeys, as well as training courses in energy healing and Shamanic teachings.
Shamanic Healer and Spiritual Counselor, Anahata Ananda, has trained extensively with gifted shamans, energy healers and spiritual teachers from around the world in order to artfully integrate the fields of spirituality, energy healing, self-empowerment and shamanic teachings. Her client-base spans the globe with individuals from all walks of life who are seeking to heal and awaken to their fullest potential.
The Shamangelic Healing Center is based in Sedona, Arizona. It is nestled beneath Thunder Mountain, with 360 degrees of breathtaking views and within walking distance to a medicine wheel and healing vortexes, making it the perfect setting for healing and expansion.
Inside, the retreat center's calm and relaxed environment helps to engage all of the senses, making it easy to settle into a session. Clients seeking Spiritual awakening, transformational healing services, counseling or training courses may choose from a wide range of options that can be tailored for the ultimate personal experience.
Shamangelic also offers the powerful Shamanic Soul Retreat, for those who are ready to deepen their connections to the land, and exclusive Women's Retreats] that can include friends, relatives or any other group of women who want to share a healing experience in a sacred space with each other. These personally tailored retreats offer tools and classes for expanding feminine consciousness, group sessions on relationships, meditation, chakra balancing, spiritual healing, vibrant health, rejuvenation, massage, sound healing and more. Retreats offer a powerful resource for anyone who wants to manage stress, expand their consciousness and deepen their self-development and spiritual awakening.
For those who prefer in-person private counseling with Anahata or would like to visit Sedona, Anahata also offers personally tailored Spiritual Retreats, Sacred Land Journeys, Vortex Energy Tours and other courses in personal empowerment and spiritual awakening, all among the Red Rocks.
For detailed descriptions and a calendar of all training courses, retreats and spiritual awakening services offered by Anahata visit https://shamangelichealing.com/