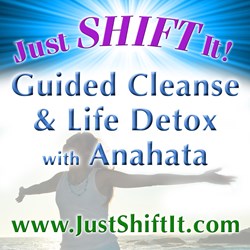 This experience changed my life for the better! I lost 10 pounds and feel so much more energized. Anahata's positivity filled the entire program and enhanced the outcome. I learned many new tools, recipes and ideas to improve my health and life.
Sedona, AZ (PRWEB) December 19, 2013
For those setting New Year's resolutions for improved health, empowered living and authentic happiness, Anahata's New "JUST SHIFT IT" Comprehensive Guided Cleanse and Life Detox is the perfect solution. Especially after holiday indulgences and periods of stagnancy and imbalance, many set intentions each year to lose weight, get healthy, improve relationships and make a better life, yet many fail to achieve their goals. Trying to cleanse without proper guidance can be more harmful than beneficial and retreat center cleansing can be expensive and time consuming. That is why Anahata created this affordable in-home program to provide tailored counseling and valuable tools to clear out the unwanted debris in life physically, energetically and emotionally.
The convenience of this program is like no other. The whole program can be experienced from the comfort of one's own home and is tailored to fit each participant's lifestyle and current heath. The duration of the "JUST SHIFT IT" Comprehensive Guided Cleanse and Life Detox can be experienced over 1, 2, 3 or 4 weeks depending on the participant's health and lifestyle. The convenient pre-recorded informational webinars can be accessed at any time to help guide each participant with the basics of the program while providing essential tools, ideas, recipes and activities to integrate into daily life. Included in the program is also 2 hours of personal coaching and direction with Anahata to help tailor the program to each individual.
The potential benefits of the Comprehensive Guided Cleanse and Life Detox with Anahata are: enhanced energy and stamina, enhanced mental clarity, elimination of toxins, improved digestion and elimination, reduction in pain and inflammation, release of emotional density, boost in immune system functioning, improved meditation practice, new vibrantly healthy recipes, new practices for a thriving lifestyle, tools for maintaining healthy conscious relationships, regaining a sense of confidence and vitality, plus looking and feeling great again. Periodic cleansing and fasting revitalizes the body enabling it to heal and recharge itself. Through the cleansing process, toxins from processed, cooked foods, chemicals and environmental impurities are released initiating the body's own healing abilities. Our bodies were originally designed to handle periods of feast and famine and are very capable of thriving while fasting and cleansing
Out of all the cleansing products on the market, Anahata consciously selected the Ejuva Cleansing program because of its dedication to the most effective and high quality ingredients. The formulation of the program is masterfully engineered to support all of the body's systems during detoxification. Ejuva is simply the most pure, gentle, yet deeply effective body cleanse on the planet! Ejuva has100% RAW 100% Vegan 100% Gluten Free with 100% Organic and or Wild Crafted ingredients that inspire the body to cleanse. This is NOT just a Colon Cleanse! Ejuva cleanses the Liver, Lungs, Spleen, Pancreas, Kidneys, Gall Balder, (all the internal organs of the body) as well as the entire Lymph system, and entire Alimentary canal from your throat to your rectum. Ejuva also offers specific herbs for balancing hormone and endocrine system. Each kit also includes a jar of Probiotic formula to reestablish the good intestinal flora. No other cleanse offers this.
The "JUST SHIFT IT" Comprehensive Guided Cleanse and Life Detox with Anahata has many components. Each participant receives an Ejuva Full-Body Intestinal Cleanse kit complete with cleansing herbs, probiotic and emotional balancing oil. Two hours of personal counseling with Anahata via phone, Skype or in person are included with the option for additional hours if needed. Six in-depth informational webinars and a comprehensive cleansing workbook provide participants with extensive guidance, activities, recipes, lifestyle practices and vibrant health tips. Also included is Anahata's Coming Home CD of Guided Meditations for Clearing and Serenity.
This NEW program is designed to help participants step back into optional health and radiant vitality in all areas of life. Participants can order now to start off the New Year in the right direction or any time throughout the year to shift their life in a more empowered, clear, vital direction. For more information on the JUST SHIFT IT Comprehensive Cleanse and Life Detox visit http://www.justshiftit.com/28daycleanse.html.
The program instructor Anahata has been studying the healing properties of living foods and detoxification since 2000. She has worked and studied with best-selling author and leading authority on raw food nutrition, David Wolfe and live food detoxification specialist, Dr. David Jubb Ph.D. On her path to optimal health, Anahata has studied the benefits of various cleansing and fasting protocols and has guided hundreds of individuals and groups through tailored detoxification programs. Anahata has trained extensively with gifted shamans, energy healers and spiritual teachers from Peru, India, Asia and North America in order to artfully integrate the fields of energy healing, self-empowerment, shamanic teachings, emotional release, spiritual studies and visualization techniques. Blending the compassion and tenderness of an Angel and the wisdom and strength of a Shaman, Anahata guides journeys of profound healing and awakening. Her extensive client base spans the globe and includes business professionals, parents, couples, healers and individuals of all ages, who seek to heal and awaken their fullest potential. Anahata is the founder of The Shamangelic Healing Center for Shamanic Healing and Spiritual Awakening based in Sedona, Arizona, where she offers Shamangelic Healing sessions, Energy Healing and Shamanic Training Courses, Personalized Sedona Retreats, Life Detox Programs and Soulful Spiritual Journeys to Peru.
For detailed descriptions of Anahata's transformational healing services, spiritual retreat and training courses visit http://www.ShamangelicHealing.com.